Spotlight on Award-Winning YUM Cook Book Author Dr. Theresa Nicassio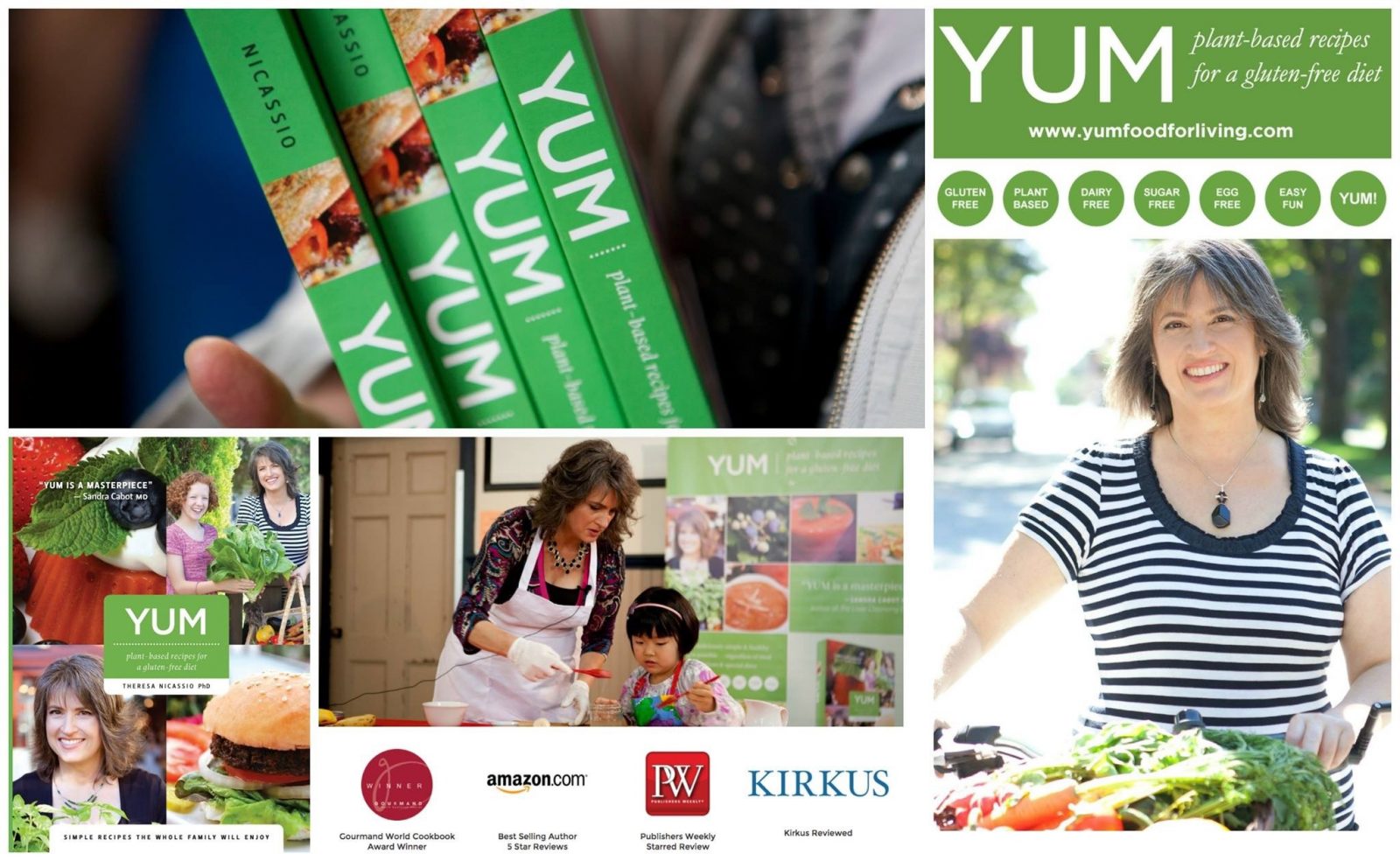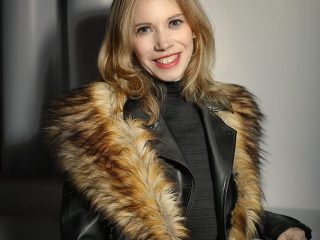 YUM: Plant-Based Recipes for a Gluten-Free Diet
Meet Dr. Theresa Nicassio, a registered psychologist, host of The Dr. Theresa Nicassio on Healthy Life Radio, gourmet raw food chef, and award-winning YUM cookbook author whose passion is to help others follow a healthy lifestyle. Here is our Q&A:
Q: Tell us how did the idea of a cookbook come about?
A: It's pretty funny, Christine, because writing a cookbook, let alone a cookbook that would become such a sensation, was the last thing I imagined I would ever do!
Growing up the only daughter in an Italian family, I learned how to cook great food but never enjoyed it. The gendered aspect of cooking as "women's work", where females were expected to cook for the family while the men and boys were served was never attractive to me. Because of this, I avoided cooking as much as I could most of my life until I became a mum and my health turned upside down.
It's a long story that I talk about in the book, but the short story is that I learned that I had an autoimmune disorder called celiac disease, as well as other food sensitivities and allergies that required that I think differently about food. Coincidentally, right around the same time, my then 12-year-old daughter decided to become completely vegan virtually overnight, which not only required major dietary changes in our home but also taught me a great deal about dietary preferences that are for ethical reasons in addition to those related to health reasons.
My daughter Alex and I became co-conspirators in the kitchen, creating wonderful recipes because there were so few options out there that met our standards. We even attended culinary school together to became raw food chefs and advanced raw food nutrition educators. Friends and family loved our creations so much that what evolved over the next six years was this cookbook project of a lifetime.
Q: The name YUM why this title?
A: While it doesn't seem possible, the book actually kind of named itself. The title was originally going to be "RENEGADE RECIPES" because of how out-of-the-box its vision was and because the recipes were crazy-delicious, even though made with healthy ingredients, most straight from the garden.
What happened though was every time we shared food from the book, just about everyone's immediate response was "YUM!" After that happened so many times, the name just stuck and the simplicity of it was perfect, especially since the recipes are so easy that anyone could make them. Only recipes that could pass my "12-year-old test" made it into the book.
Q: Tell us about the cookbook and who is it for?
A: YUM is a beautiful 368-page full-color coffee table resource book filled with easy recipes, cooking tips, and health information that anyone can enjoy, even those who have dietary restrictions because of food preferences or health conditions like cancer, heart disease, diabetes, autoimmune disease, or food sensitivities, including food allergies.
The book is ideal for anyone who is wanting to fill their bodies and those they love with more delicious whole-food-based possibilities, regardless of their dietary preferences or health needs. Those who want to eat food that doesn't use any regular refined sugar, gluten, or other ingredients that may have a negative effect on their health are some of the biggest fans of the book, especially parents of children with special needs.
Q: What are some recipes for runners?
A: Runners love YUM, probably because the recipes are so nutrient-dense and made of real whole food ingredients that also don't gum up their system and slow them down.
My husband is an avid runner and was my best critic throughout the recipe development process. While he loves all of the recipes in the book and is crazy about the delish cookies and the insanely creamy No-Bake Pumpkin Pie, if forced to choose, he and many other runners are particularly big fans of the "one-pot" dishes like soups, chili, and salads. He's told a couple of people that the dairy-free Cheesy Broccoli Soup maybe his favorite recipe in the entire book. But when I'm really wanting to win his heart over, I know that the Peanut Butter Cookie Sandwiches always land a happy ending for all!
Q: Do you have a favorite recipe?
A: Everybody loves to ask me that question and I never know quite how to answer! It really depends on my mood, the time of year, what's growing in my garden at the time, and whether I'm cooking for one or many.
That said, while there are loads of delicious desserts in the book, I'd have to say that my favorites tend to be the more savory and ultra-practical recipes. My daughter Alex would probably say that it's because I'm a Taurus, but I think it might also be because I'm so darned busy with multiple projects that the "make-ahead" recipes I can pack up for the upcoming week's lunches and snacks makes life a whole lot easier.
Given that, recipes like the Creamy Sunflower Seed Sauce is one of my favorite go-to's because it can be used in so many ways. It can be used as a salad dressing, as a delish sauce in wraps, as a pasta sauce, or even as the primary base for the best kale chips on the planet (the Deluxe Kale Chips that I've been told have been re-named "Crack Chips" in at least one family, because they can't make and eat enough of them!).
Q: Your book is more than a cookbook it is also food sustainability?
A: Yes it is…and so much more!
At first glance, most people assume that YUM is all about food, gardening, and cooking. Just as the ocean appears to be about waves and tides, what lies below the surface of this book is much more complex and multi-faceted.
Our relationship with our bodies, the food we eat, the soil we walk upon, and even our relationships with each other and the other beings we share our world with has profound implications for not only our mental and physical wellness, but also the wellness of our planet that we are caretakers of and will be passing along to our children and grandchildren.
The book embodies all of this, but in a way that is devoid of fear, judgment, or victimhood, focusing instead on possibility-thinking, hope, joy, and deliciousness. It does all this while simultaneously providing an effortless pleasure-based roadmap for changing lifestyle habits and mindset. I like to think of the book as "a philosophically-grounded psychology book that uses food as a really big metaphor."
Q: Tell us about the feedback from the book?
A: There are really no words to adequately capture the feedback, Christine – It's literally been mind-blowing.
It's the personal stories that people share with me about how they found hope from the book after feeling overwhelmed and lost that move me most deeply. People like the mum who didn't know where to turn when she found out that her 7-year-old son not only had diabetes but also celiac disease and didn't know what to feed him. And the countless women who, like me, also suffered a loss of health during or after their pregnancies who felt confused and alone in their suffering not knowing where to turn until they read my story and discovered that they're not alone and also how they can also use food as their medicine. And of course, the many special needs mums who before reading YUM didn't know where to turn after discovering that their children's mental, cognitive, and/or physical health requires that they avoid eating certain foods.
I could go on with the stories, Christine. Literally every time I give a talk or sign books at wellness shows, at least one person comes up to share with me, eyes filled with tears, how the book has changed their life. And just about everyone who has gone below the surface waves of the recipes has scolded me for calling YUM "a cookbook" because it is so much more than that.
So, while the critical acclaim of the book has been amazing, with over a dozen national and international awards and honors like the Gourmand Best in the World Award and the Publishers Weekly starred review, my heart is filled with gratitude for the privilege of creating a resource that is transforming the lives of thousands around the globe.
Related