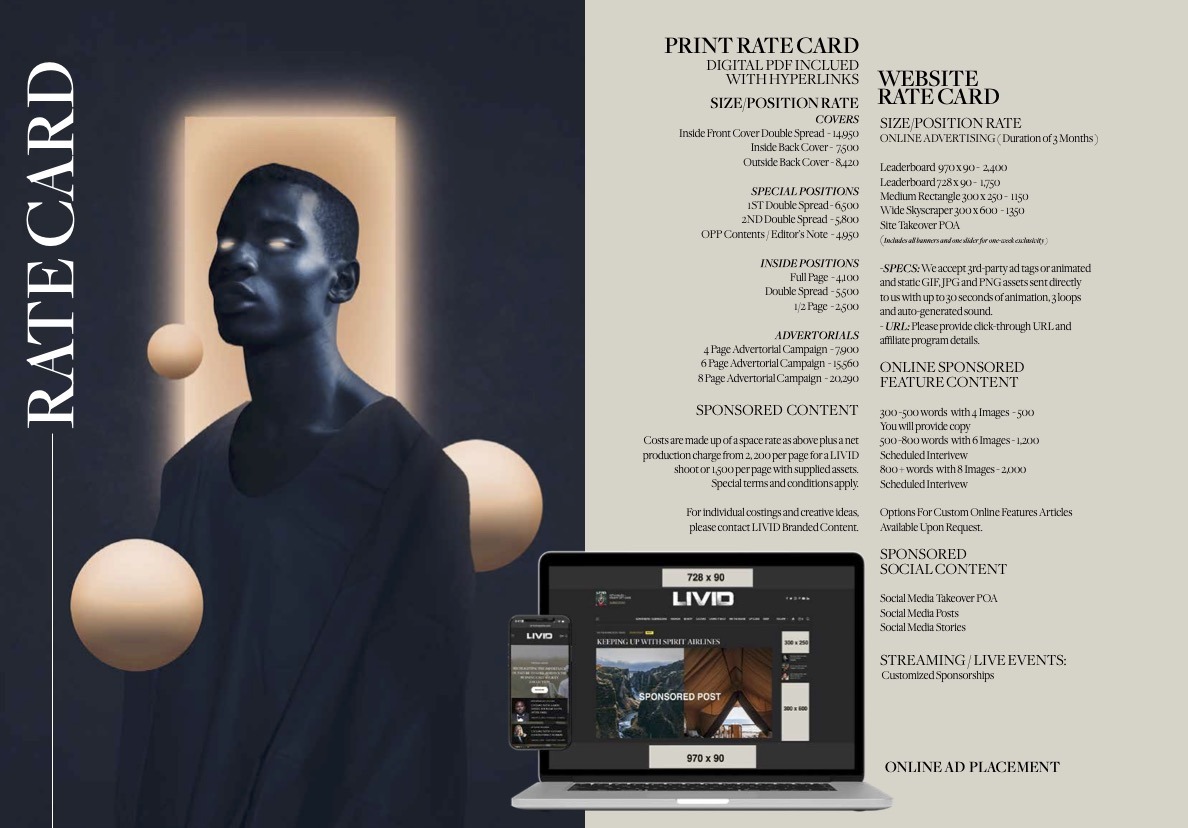 ADVERTISE WITH US AND UNLOCK NEW HORIZONS
LIVID Magazine stands as the definitive hub for the discerning connoisseur of high-end fashion and lifestyle, boasting a dynamic and diverse readership spanning the globe. With over 12 years of excellence in curating captivating content, we invite you to showcase your brand to our expansive, international community.
WHY PARTNER WITH US?
Our commitment to celebrating elegance, innovation, and culture has made us a trusted source for style aficionados worldwide. When you choose to advertise with LIVID, you gain access to:
PREMIUM POSITIONING: Your brand will not only be seen but celebrated. We position your brand strategically, ensuring it shines brightly in our curated content.
TAILORED ADVERTISING INITIATIVES: Our in-house planning and strategy team works tirelessly to create advertising initiatives that align seamlessly with your brand's identity and goals.
BESPOKE PARTNERSHIPS: Partnering with LIVID means more than just advertising; it's about building meaningful connections. We craft bespoke partnerships that resonate with our audience and elevate your brand's image.
ACCESS TO CULTURAL ENTHUSIASTS: Join hands with us to reach an affluent community of cultural enthusiasts, tastemakers, and influencers. Your brand will thrive in an environment that values sophistication, creativity, and style.
GLOBAL REACH: LIVID Magazine offers you a platform where your brand can thrive and flourish, resonating with a global audience that shares a passion for sophistication, creativity, and style.
STEP INTO THE WORLD OF LIVID
Step into the world of LIVID, where your brand can shine on the global stage. We go beyond traditional placements, offering you an opportunity to become an integral part of the most authentic representation of today's outlook on lifestyle.
Our unconventional content sparks curiosity and resonates with an audience that seeks more than just the ordinary. When you partner with us, you become an essential thread in the fabric of a vibrant, global community that values innovation, culture, and style.
Unlock new horizons for your brand by advertising with LIVID Magazine. Join us in celebrating the beauty of fashion and culture, and let your brand take center stage in the world of sophistication and creativity.
ACCESS MEDIA PACKAGE FOR QUICK DOWNLOAD
CONTACT US 
For all sales inquiries, content sponsorships, and promotional opportunities, please reach out to us. We are here to discuss how we can tailor our media packages to meet your unique needs. Together, let's amplify your brand's message and make a positive impact on a global scale.
Advertising Director, Natalia Valencia – [email protected]
Partnerships Director, [email protected]
Features Director – [email protected]
Marketing Director – [email protected]
Publicity Director – [email protected]