Stephanie Lane Social Media and Marketing Manager Shares Spring Tux Looks

Christine Williams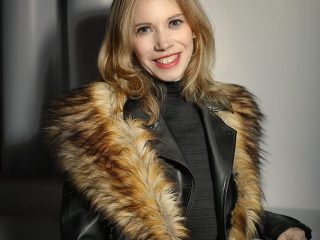 Spring Tuxs
Stephanie Lane, Social Media and Marketing Manager shares in a Q&A her passion for men's wear and offers some upcoming spring tux looks.
Q: Tell us your role with Black & Lee?
A: I run the social media and marketing at Black & Lee. If you have interacted with Black & Lee online, it's me you're talking to!  I have also spent time at the store level helping customers find their perfect look for their special event.
My time helping customers in-store was probably some of the most rewarding experiences. So often a man would walk in, uncertain and clearly uncomfortable with picking out formal wear. Then, as we started to talk about different tuxedo or suit options you could see the walls slowly start to break down and they would start to relax and have fun with it.
Q: Tell us about the services you offer?
A: I think when people hear "Black & Lee" they think rental wear and assume that rentals are the only service we provide. That's not the case! We're truly a one-stop-shop. On top of an extensive collection of rental suits and tuxedos, we have a full menswear line featuring designers DKNY, Calvin Klein, Ben Sherman, Ike Behar, and more. From slim fit suits to the latest in neckwear (hello, floral ties!) to genuine leather belts to funky and fun socks and everything in between – we have it. We are also extremely proud to be able to offer our customers a custom suit experience with a price point that makes it extremely accessible. We have both rental and retail options for this year's hottest colors, and our new collection includes the burgundy/forest green/cobalt blue.
Q: How does it make you feel when customers are happy and feel confident wearing a tux?
A: It's always very rewarding. The smile on their faces as they try on their tuxedo or suit ahead of their event – clearly proud, clearly feeling confident despite previously believing that what they wore had no effect on their confidence – is always touching (and extremely satisfying!). You can't help but be excited for them!
Q: Tell us about the family business?
A: If people are looking for ways to support our 65-year-old BC family-owned and operated business, they can do so by purchasing a gift card online, shopping our menswear collection online, scheduling a private fitting (rental or retail) booking their event attire early.
Q: Tell us about some upcoming styles and new colors?
A: We're so excited about some of the new products we have hitting the floor! Color is in! We have some beautiful new suits on our menswear side. Think deep forest green, rich burgundy, and vibrant cobalt blue. For accessories, floral neckwear is still hugely popular.
Color is trending on the rental side too. When Pantone released "midnight blue" as the Color of the Year for 2020, we knew our navy-blue tux would continue to grow in popularity – and it has. A couple of other popular options from our rental collection is our burgundy tuxedo jacket. It's such a gorgeous jacket and, while I think some tend to see it as more of a Fall or Winter option, it really looks amazing in all seasons (yes, even summer!).
Q: Who are your customers?
A: Customers on our rental side are typically men (although we have styled women in the past as well!) who are at a milestone moment in their lives.
Customers shopping in our retail collection are men looking to grow their business professional wardrobe with high-value, quality menswear.
Regardless if you are shopping for our menswear collection or booking through our rental collection, the service remains the same. Our showrooms are professional yet relaxed.  Our style specialists are warm, friendly, and always looking for opportunities to go the extra mile. We are open for fittings by appointment at our south Burnaby warehouse.  All social distancing recommendations are being adhered to.
For more information: Black & Lee
Related