Author Rahela Nayebzadah Releases Debut Book Monster Child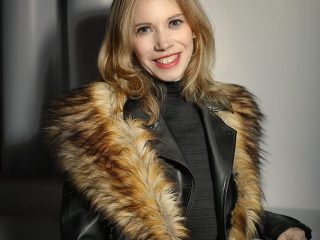 Author Rahela Nayebzadah Releases Debut Book Monster Child
I had the opportunity to sit down over coffee for a Q&A interview with accomplished author Rahela Nayebzadah who released her debut novel Monster Child. The mother of two holds a PhD in the Faculty of Education from the University of British Columbia. In a Q&A, she shares the inspiration for writing the book, and how she maintains a healthy lifestyle.
Congrats on your award-nominated debut novel, Monster Child. What was the inspiration to write the book and the title?
A: Growing up, I didn't see many books written by Afghan authors, particularly Afghan female authors. This is something I took great issue with because I didn't feel seen. Now, as a mother, I want my children (who are half Afghan) to feel both seen and positively represented in literature.
The inspiration behind the title has to do with my fascination with monsters. I like to play with the notion of what makes one a monster and what doesn't.
Tell us about your book and when did your passion for writing begin?
A: Set in the spring of 2000, Monster Child is about the Afghan immigrant experience in Canada. As a sexual assault on thirteen-year-old Beh unleashes the past and destroys the family, the reader is left wondering who is the monster child? Is it Beh, who says she is called a disease? Is it Shabnam, who cries tears of blood? Is it Alif, who in the end declares "We are a family of monsters"? Or are the monsters all around us?
I've always been passionate about writing. In fact, I've always been passionate about scriptwriting. From a young age, I wrote screenplays. I'll never forget my first script—I was in high school and the script was over 400 pages. Not once did I think I'd be a novelist.
What was the process like in writing the book?
A: I came up with the title before I sat down to write the book. Originally, Monster Child was supposed to be a fantasy. Not until I taught The Jade Peony to a grade 10 English class, did I feel inspired to write the novel from the perspective of three Afghan siblings.
Monster Child went through at least seven drafts. I even took an entire part out, which I'm glad I did (even though it drastically shortened the length of the novel).
How does it feel to have the book released and what has the feedback been like?
A: Monster Child was released last summer and it's been an amazing year. My novel has also been nominated for three awards and has received many positive reviews, both from Afghans and non-Afghans.
Is there a favorite chapter you like?
A: My favourite chapter from Monster Child is the first chapter. So much happens in the first chapter—readers get a sense of the characters and the Afghan culture. However, it's also the most difficult chapter to get through, which is why it makes it so special.
What do you want people to get from your book?
A: That Afghan voices matter. Our stories—whether tragic, uplifting, or mundane—are worth sharing. I also want to change how people view Afghans and Muslims. Representation matters.
How do maintain a healthy lifestyle and do you have a favorite dish?
A: To me, maintaining a healthy lifestyle means eating right, sleeping, and being surrounded by loved ones.
I have a three-year-old son who is just beginning to sleep through the night. I have many years of sleeping to catch up on, so even a thirty minute nap is enough to get me through the day. I also love spending time with my children and visiting my parents.
I love pizza and seafood Alfredo pasta. Having celiac for over ten years, it's been difficult finding the best gluten-free pasta and pizza.
Do you have a favorite movie?
A: I'm a major fan of Spike Lee. I've watched every film of his and I think he's an amazing screenwriter. My favourite film is Do the Right Thing.
What is next for you and where can people get a copy of the book?
A: I have two manuscripts I'm currently working on. I'm also planning on taking some time to focus on my mental health. The past year has been extremely difficult, especially with the situation in Afghanistan. I must work on advocating for my people's right without falling apart.
Monster Child can be ordered from my publisher (Wolsak and Wynn Publishing) or from Amazon or Indigo. There's also an e-book available.
Thanks to international recording artist Bif Naked for connecting us.
Related