Indulge in Culinary Delights: Quick and Flavorful Meals for Busy Foodies

Photo courtesy of Fauxels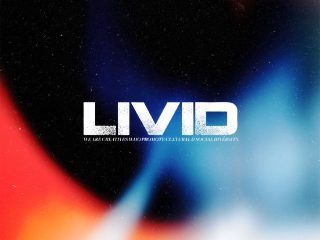 Delight Your Appetite With These Delicious Meals
Are you tired of the same old fast-food routine but find it challenging to squeeze in time for meal preparation? Don't fret! We have the perfect solution to satisfy your cravings without sacrificing taste or nutrition. With a dash of creativity and effective time management, you can whip up five splendid meals in under an hour. These recipes are tailor-made for on-the-go food enthusiasts and busy bees who crave fresh, nutritious, and delectable dishes. So, get ready to tantalize your taste buds and make your hectic days a little more flavorful. Here are our top recommendations for quick and savory meals that you can prepare whenever you have a moment to spare.
Shrimp Pasta Alfredo meals (Prep/Total time: 25 mins)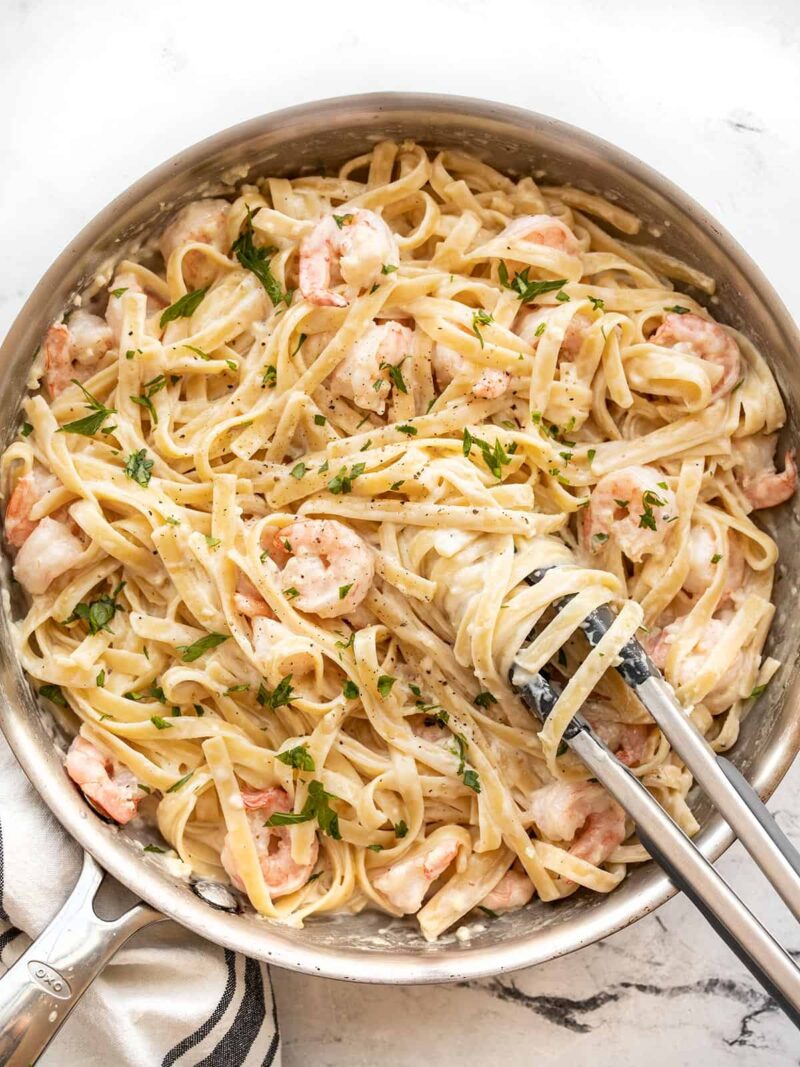 Ingredient:
1/2

 

lb.

 

medium shrimp, peeled and deveined

 

1/2

 

lb.

 

fettuccine

 

2

 

Tbsp

 

butter, divided

 

4

 

cloves

 

garlic, minced

 

1

 

cup

 

heavy cream

 

3/4

 

cup

 

Parmesan*

 

1/8

 

tsp

 

salt (or to taste)

 

1/4

 

tsp

 

freshly cracked pepper (or to taste)

 

1

 

Tbsp

 

chopped fresh parsley (optional)

 
Instructions:
If your shrimp is frozen, thaw and peel before beginning. You can remove the tails or leave the tails on if you prefer.

Bring a pot of water to a boil for the fettuccine. Once boiling, add the fettuccine and boil until tender (7-10 minutes). Reserve ½ cup of the starchy water before draining the pasta in a colander.

While the fettuccine is boiling, prepare the shrimp and alfredo sauce. Place the peeled shrimp on a cutting board and pat dry with a paper towel. Season the shrimp with a pinch of salt and pepper.

Add 

1

 tablespoon butter to a large skillet and heat over medium. Once hot, swirl to coat the surface of the skillet with butter. Add the shrimp and cook for 1-2 minutes on each side, or just until opaque and pink (do not overcook the shrimp). Transfer the cooked shrimp to a clean bowl.

Reduce the heat to medium-low. Add 

1

 tablespoon butter to the skillet along with the minced garlic. Sauté the garlic for 1-2 minutes, or just until it is very fragrant but not brown.

Add the heavy cream to the skillet and whisk to dissolve any browned bits off the bottom of the skillet. Allow the cream to come up to a simmer.

Whisk the Parmesan into the hot cream until melted. Season the sauce with salt and pepper.

Add the cooked and drained pasta and cooked shrimp back to the skillet with the sauce (make sure to add any liquid from the bowl of shrimp). Toss everything until coated in sauce. If the sauce becomes too thick or dry, add some of the reserved pasta water to loosen it up.

Taste the pasta and add more salt or pepper if needed. Top with chopped fresh parsley and serve!
Marinated Grilled Flank Steak (Prep 5 mins + Grilled 15 mins)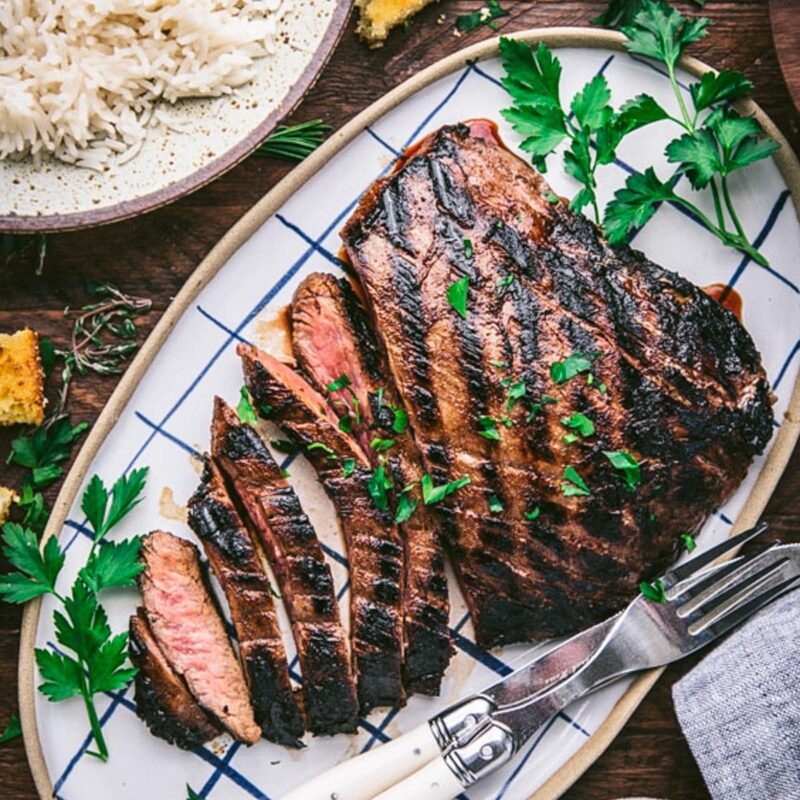 Ingredients
Soy sauce
Seasoned rice vinegar
Honey
Ginger
Garlic powder
Vegetable oil
Green onions
Flank steak
Instructions
Whisk together the marinade.
Marinate the flank steak in a large Ziploc bag or in a dish covered with plastic wrap in the fridge for at least 2 hours, or overnight.
Grill over high heat (or broil in the oven) for about 4-6 minutes per side. Discard excess marinade.
Let the meat rest for 5-10 minutes.
Slice diagonally against the grain with a sharp knife, and serve!
Breaded Pork Chop (Prep/Total time: 20 mins
)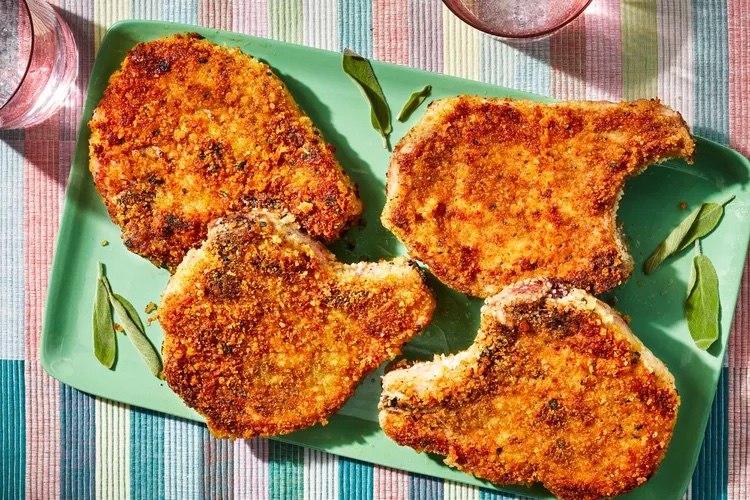 Ingredients
1 large egg, lightly beaten

1/2 cup of milk 

1-1/2 cup of saltine cracker

6 (1-inch thick) boneless pork loin chop

1/4 canola oil
Instructions
In a bowl, whisk the egg and milk together. Place cracker crumbs in another bowl. Dip each pork chop in egg mixture, then coat with cracker crumbs (Keep patting the coating if you want a thicker crust) 

In a large skillet, cook pork chops in oil for 4-5 minutes on each side or until a thermometer reads 145°. Let the meat sit out for 5 minutes before serving.
Orange Pomegranate Salmon (Prep 10 mins + Bake 25 mins)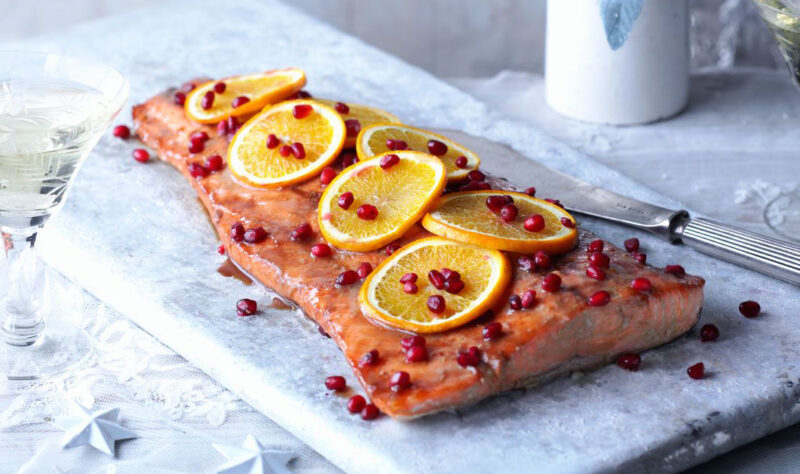 Ingredients
1 red onion, thinly sliced        

1 (2 pounds) skinned salmon fillet

1/2 teaspoon of salt

1 orange, thinly sliced

1 cup of pomegranate seeds

2 tablespoons of extra virgin olive oil 
Instructions
Preheat oven to 375°, placing a foil on top of the baking pan. Place the chopped onion slices in a single layer of foil. Top with salmon; sprinkle with salt. Arrange orange slices over the top. Sprinkle with pomegranate seeds; drizzle with oil. Top with a second piece of foil on top of all the ingredients. Fold foil edges on all sides and crimp to seal, forming a large packet.

Bake until fish flakes easily with a fork, around 25-30 minutes (Be careful of escaping steam when opening the packet). 
Buttery Parmesan Chicken (Prep/Total time: 30 mins)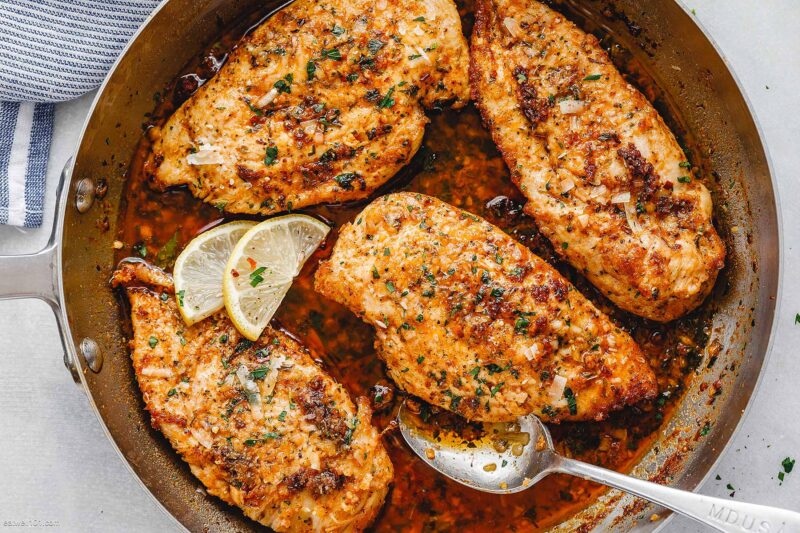 Ingredients:
1 cup of grated Parmesan cheese

2 cups of soft bread crumbs

1/2 of butter, melted

6 (6 ounces each) boneless skinless chicken breasts 

1/2 cup of Dijon 
Instructions: 
Combine cheese, bread crumbs, and butter. Coat the chicken breasts with the Dijon, then dip them into the crumb mixture. Place breaded chicken in a baking pan. Bake at 425° until a thermometer inserted in the chicken reads 165°, about 15 minutes. 
Love to see more Savory Content? Make sure you stay up-to-date with our Savory Column and Quick Bites Meals here.
Related