Breathe in the Wild – Majestic Harrison Mills, British Columbia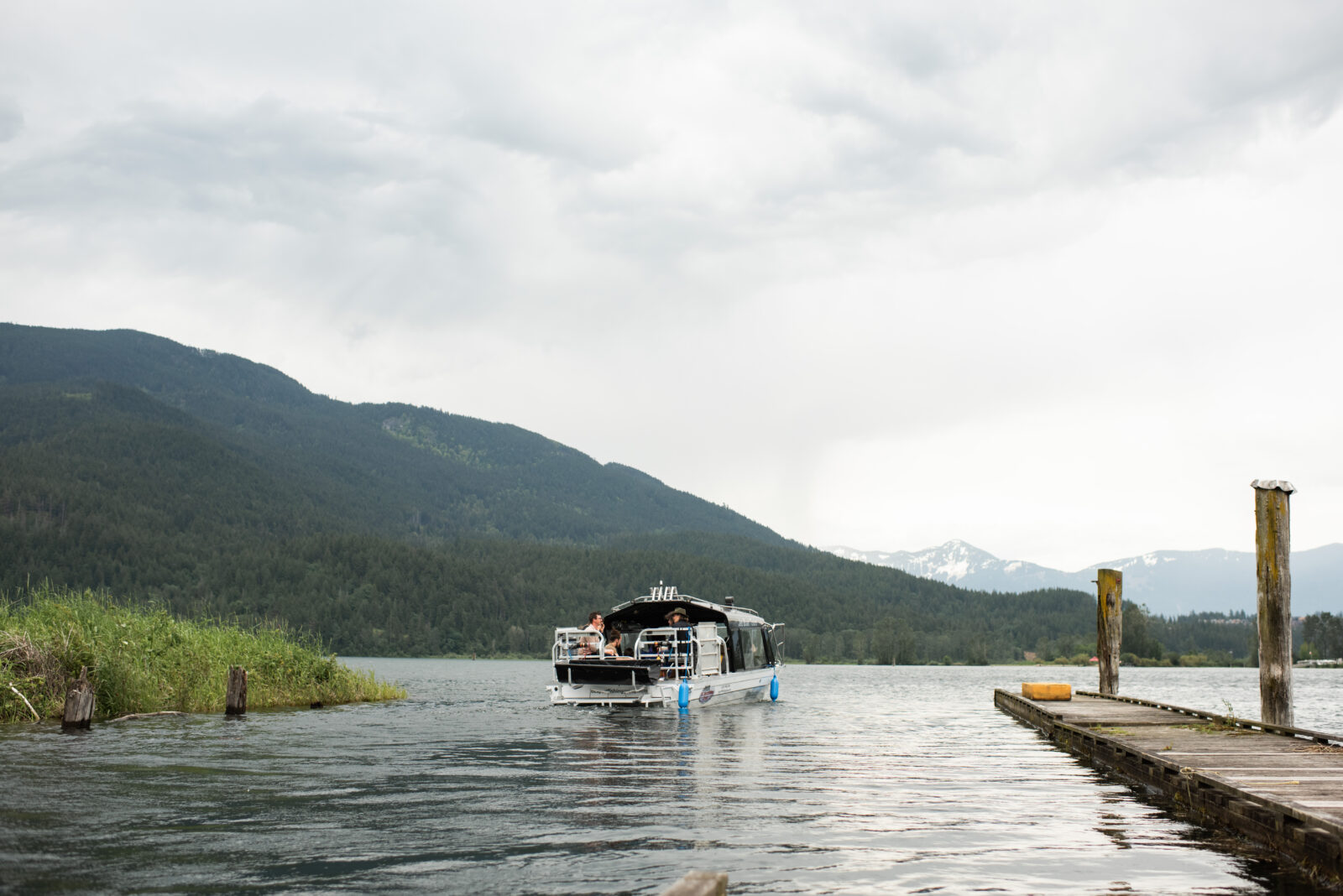 The Harrison River Valley / Tourism Harrison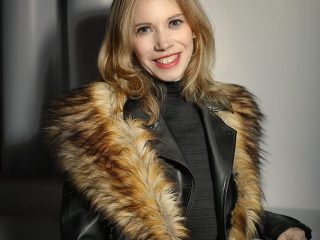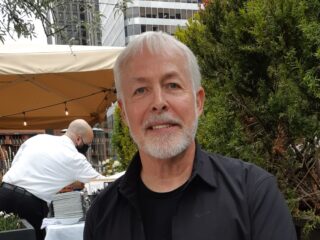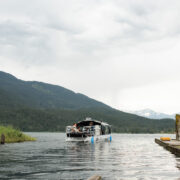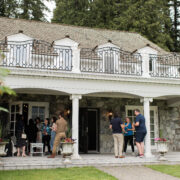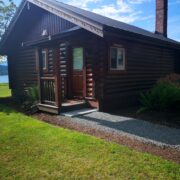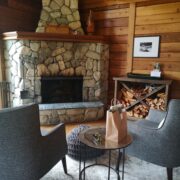 View Gallery
Breathe In The Wild
Harrison Hot Springs, British Columbia is a destination resort, famous for its natural hot springs, mountain and lake vistas, and small-town hospitality. We've made the drive along Highway 7 many times over the years for rest and recreation. And every time we got to within 40 kilometers we'd see the exit right sign for Harrison Mills, pay no heed and carry on to our destination. That changed recently when Harrison Mills became our destination and in the process, a revelation. On pulling into the Sandpiper Resort, we found rustic log cabins alongside manicured fairways and lakes of an award-winning golf course with stunning views of the Harrison River and snow-capped mountains. How could I drive by this place all my life without turning in and checking it out? It's a beautiful destination in as pristine a location as you'll find anywhere in BC. And it's always been there, beckoning, waiting to be discovered.
'Breathe in the wild' was the theme of our sponsored trip to Harrison Mills and Harrison Hot Springs. According to a press release, 'The Harrison River connects all communities, spanning Agassiz, Harrison Hot Springs, Harrison Mills, and all the communities in between and is the land of the traditional territories of the Sts' Ailes, Seabird Island, Sq'ewá:lxw, Cheam, Douglas, Leq'a: Mel, Samahquam, Sq'ewlets, and Skatin First Nations. Since time immemorial, the river has been the highway that supported the livelihood of the Sts'ailes First Nations as they would travel from their village to what is now known as Kilby Provincial Park and to their village in Harrison Hot Springs known as Qwolts. The Sts'ailes community had many villages along the river and you can see pieces of their history by viewing the petroglyphs along the river.'
This press trip was about our own experience in connection – with the land, the views, ourselves, and each other – and being free in the wild. It is indeed an oasis for those who enjoy golfing, hiking, or simply a serene getaway to recharge your batteries. Also, Sasquatch is legendary in the Harrison River Valley with many regional sightings. Our Breathe in the Wild experience included staying in one of the beautiful log cabins, the Nelson, with all the comforts of home inside, including vaulted ceilings and a stone wood-burning fireplace. Located beside the fairway which follows the contours of the Harrison River, the setting was sublime. Read on…about this gem of a place as we visit Harrison Mills and then Harrison Hot Springs.
Sandpiper Resort, located in Harrison Mills, British Columbia -home to Rowena's Inn on the River, Sandpiper Golf Course, and the River's Edge Clubhouse.
We turned off the highway, driving a short distance to the elegant stone and wrought iron gate. The buildings are like beautifully maintained accessories to striking scenic vistas everywhere we looked while cruising down the long entranceway. We decided to do a little exploring, to perhaps catch sight of our own accommodation. Then a very friendly fellow in a golf cart asked if he could help. Ian turned out to be the first of many friendly professionals at the Sandpiper resort, who guided us to our cabin after checking in. We felt welcomed right away.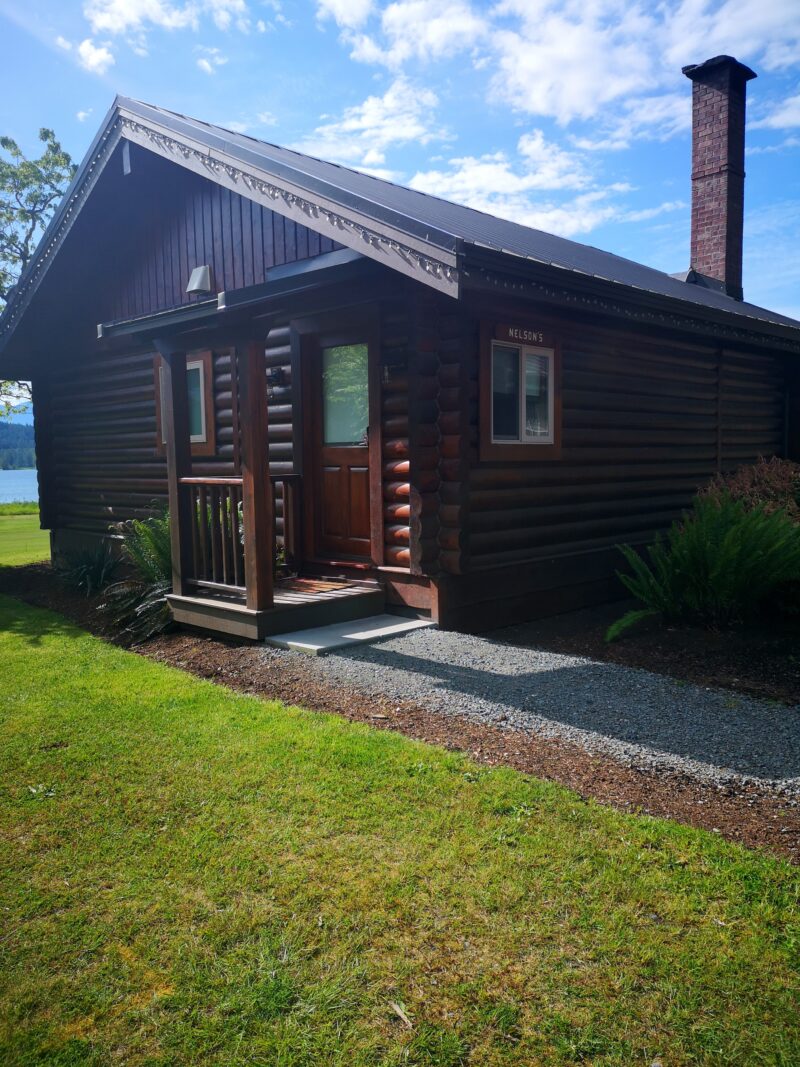 Rowena's Inn, An English Boutique hotel with a 1920's theme. On the same magnificent property as the charming rustic cabins.
Rustic Cabins:
As we opened the door to the Nelson cottage, we cherished our stunning views of the Harrison River, just steps away from one of British Columbia's most scenic 18-hole golf courses. Inside, there was a rugged stone fireplace with firewood, a deep soaker bath, a separate shower, and everything that we would need in a spacious layout. The ambiance was of old-world charm. Thanks to our classy hosts, we felt privileged while relaxing by the fireplace sipping on a glass of 2020 Chaberton White by Chaberton Estate Winery.
Harrison Breathe in the Wild Presentation Event was located in Rowena's Inn
We enjoyed charcuterie and wine in the Upper Drawing Room at Rowena's Inn for the Tourism Harrison Breathe in the Wild presentation. While enjoying some pouring of the wines and appetizers, we took in the breathtaking view, mingled with our fellow media guests, and soaked up the atmosphere, framing the moment for lasting memories.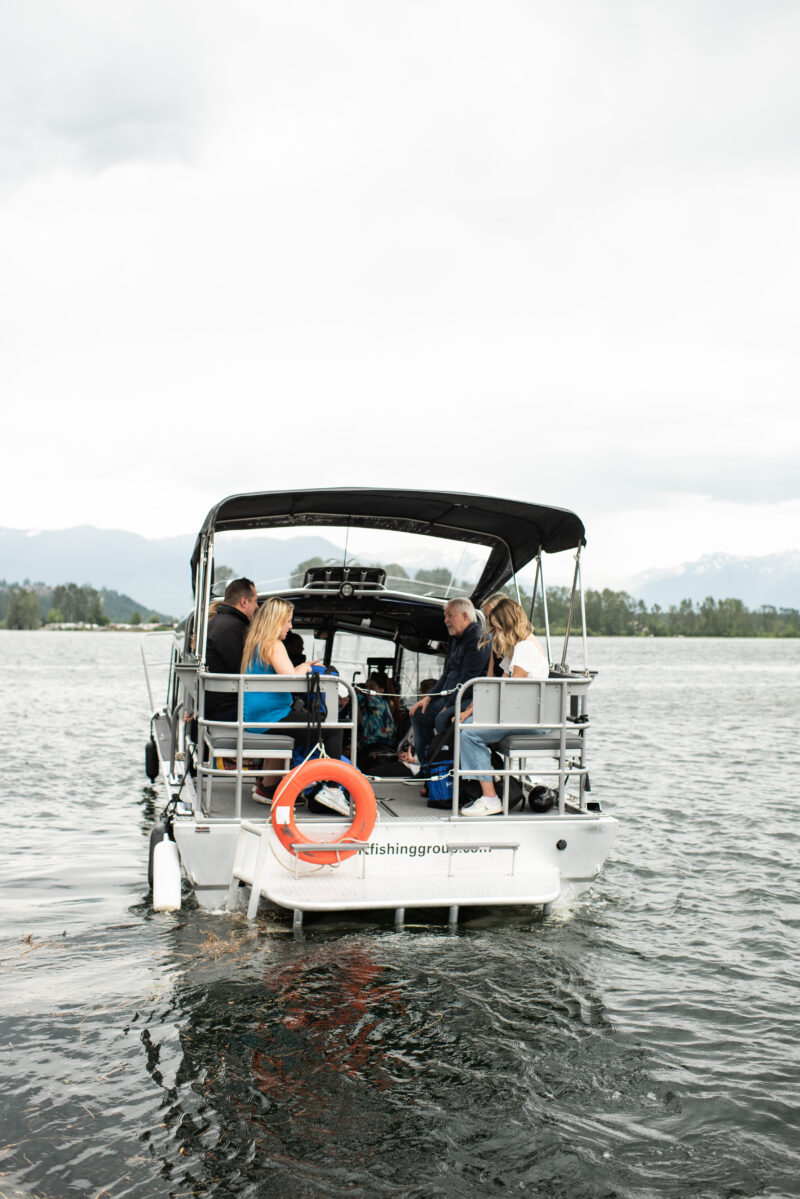 Boat Tour and Lodge on Harrison Lake
After our social event, we took a 40-kilometer boat ride down the Harrison River, with Harrison Eco Tours, before arriving at the Lodge on Harrison Lake for a lovely lakeside dinner. Though we didn't spot any sturgeon, some specimens which can live up to 150 years and measure up to 11 feet long and several hundred pounds, have been caught and released.
Before having dinner it started to rain, yet the air was warm. So we made the decision to stay and have dinner outdoors, rain or not. Then a few minutes later, the rain stopped for the remainder of the evening, becoming a delightful side note to an enjoyable event.
We were treated to for starters, Tomato Goat Cheese Tower, Smoked Salmon & Rusti, and some of the main courses included Beef and Mushroom, Braised Beef Short Rib, and for the dessert Rhubarb upside-down cake, Harrison Lavender Syrup and Candied Licorice Root.
After enjoying our meal we sat by the fire pit and made some s'mores with chocolate Sasquatch feet.
Did you know, Slap Communications: 'The Harrison River is Canada's first certified salmon stronghold, meaning it is abundant with all five species of salmon – Chinook, Sockeye, Coho, Pink, and Chum. The Harrison River was designated an International Salmon Stronghold in 2010 by the North American Salmon Stronghold Partnership. The Harrison Salmon Stronghold represents one of the most ecologically significant Pacific salmon rivers in North America and is one of the most productive salmon ecosystems in the Pacific. As such, it requires careful planning and environmental stewardship to preserve it as a reliable salmon refuge. Every fall, tens of thousands of eagles gravitate to the region due to the annual salmon run positioning.
Breakfast at River's Edge Clubhouse Restaurant
We ate a hearty breakfast, bacon, eggs, toast, a meal size that could be shared for two instead of one. We were more than properly fuelled for our walk in the forest trail.
'Harrison Mills as the world's capital for the largest winter eagle gathering.' Slap Communications.
We enjoyed our blissful walk which is called the Eagle Walking Trail, near the River's Edge Clubhouse.
We were not disappointed by the serene trail, creeks, and old-growth trees. We look forward to returning and visiting the eagle viewing gazebo.
Harrison Hot Springs is surrounded by mountains and beaches
The place to visit for a wellness getaway, enjoy outdoor activities, and dining, and also enjoy the Harrison Hot Springs Resort which offers five mineral pools to suit a family or sit and relax with friends.
We enjoyed relaxing in the hot mineral pool and also dipping our feet in the cooler temperature one. The mineral pools have attracted celebrities such as Liam Neeson, Michael Buble, the late Robyn Williams, Clark Gable, and many others over the years.
Muddy Waters Cafe
We enjoyed our lunch as John chowed down on his grass-fed burger, farm to plate. My salad was delicious and filling. Then we walked along the promenade and ended our trip with Sasquatch chocolate, having not spotted the real one this time, we would not go home empty-handed. Delicious!
Related