Photo Credit: Jo Sittenfeld/RISD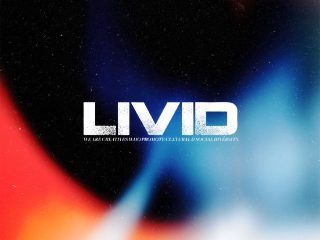 View Gallery
Sustainable Futures Collab Project, Hyundai Motor Group & RISD
Slime Brain by Mehek Vohra 24 GD
Slime Brain by Mehek Vohra 24 GD and Manini Banerjee 23 ID. These students, as part of Paula Gaetano-Adi's Robotics for the Pluriverse course, explore bio-intelligence of single-cell organisms and how slime mold uses chemotaxis to navigate towards stimuli, imagining the potential for organic matter to drive autonomous vehicles
Hyundai Motor Group & Rhode Island School of Design Reveal 2022 Collaboration Project, Sustainable Futures.
Hyundai Motor Group (the Group) and Rhode Island School of Design (RISD) today revealed the latest phase of the RISD x Hyundai Research Collaborative, a multiyear partnership exploring the relationship between nature, and art and design.
The Group and RISD have been working together since 2020 to study environmentally just futures. The partnership reflects the Group's commitment to fostering a sustainable society while highlighting the expertise of RISD faculty and the experimental creativity of students to conceive sustainable future realities.
"This year's collaboration provided an opportunity for us to envision a sustainable future where humans learn from nature's wisdom and coexist with the environment. This year, New Horizons Studio, a unit focused on the development of Ultimate Mobility Vehicles, also took part in our joint research and provided fresh perspectives. We plan to continue expanding the reach within HMG. In addition, we will establish a more innovative culture by identifying ideas for future business," said Dr. Youngcho Chi, President and Chief Innovation Officer of Hyundai Motor Group.
"What we are aspiring to do does not exist," notes RISD President Crystal Williams. "Through collaboration, experimentation, and abstraction, our research imagines future realities and seeks to produce new insights towards the creation of socially and environmentally just societies. We are thrilled to have in Hyundai a partner who shares our belief in the power of discovery, and deep appreciation and respect for diverse types of research. We look forward to this next phase of our collaboration."
In this third year of partnership, with the theme of 'Sustainable Futures,' faculty members at the world-renowned design school leveraged their expertise to help the Group delve into important sustainability issues with the support of three dozen student researchers.
Four creative teams with faculty expertise in ceramics, digital media, glass, and robotics investigated ways to build more sustainable futures, leveraging different perspectives and technologies. Within each of these topics, nature is conceived as a complex and technologically mediated point of departure for new ways of viewing and making the world.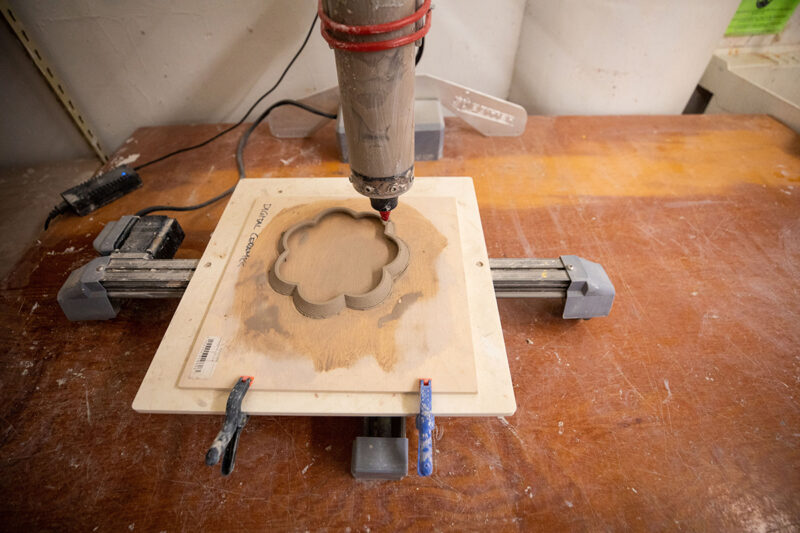 Digital Ceramics
Faculty lead: Lesley Baker, Ceramics
The Digital Ceramics research studio explored the use of cutting-edge technologies to produce forms composed of both traditional and new potential materials, such as salt, sand, sawdust, and coffee grounds, with an emphasis on sustainability. Modeling applications, including 3D scanning in collaboration with the Nature Lab, have been used to produce forms that can be fabricated by additive technologies. These technologies include paste clay extrusion and the use of experimental sustainable materials. Students worked with an open-source printer to gain a better understanding of how shared technology leads to unexpected connections and creative ways of making.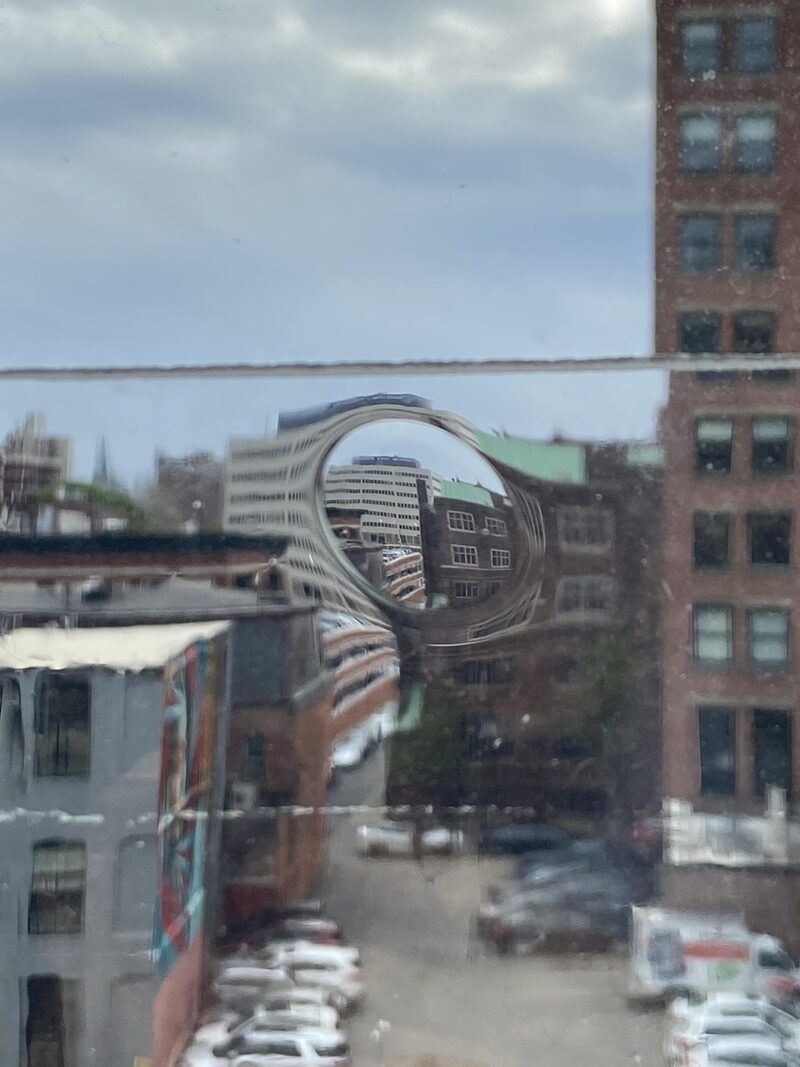 Experiments in Optics
Faculty lead: Jocelyne Prince , Glass
The graduate research studio focused on optics and their role in observing and imaging nature. The research was organized around the theoretical and technological aspects of optics with an emphasis on their relationship to glass. This included exploration of physics, projection, magnification, perception, imaging, and their role in media, within both historical and contemporary contexts. Visiting experts brought new and unexpected perspectives to the research, including biologist and Hyundai Research Fellow Felipe Shibuya, who spoke to the class about other animal species' vision.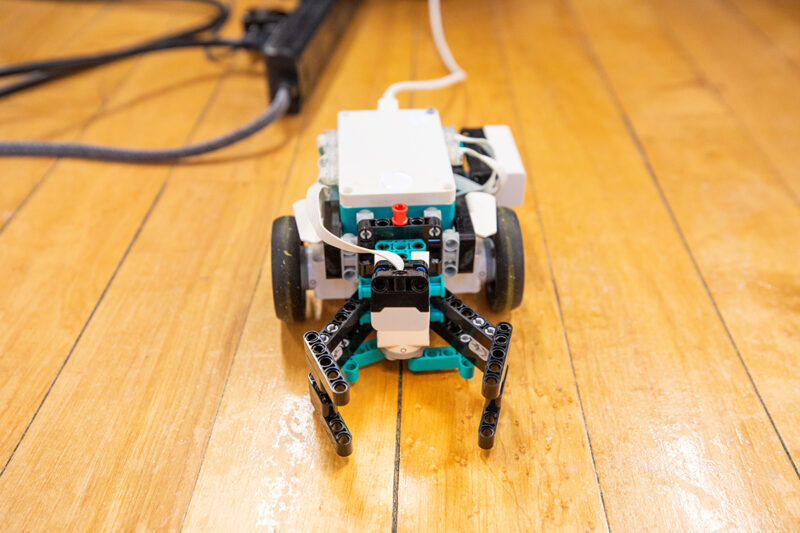 Robotics for the Pluriverse
Faculty lead: Paula Gaetano-Adi, Experimental and Foundation Studies
Robotics for the Pluriverse is a Computation, Technology, and Culture-affiliated research studio and experimental laboratory for analyzing, studying, imagining, speculating, and making robots and other artificially 'intelligent' beings.
For this year's project, the studio interconnected a diverse array of perspectives and disciplines, from state-of-the-art robotic and AI technologies to the cultural work of sci-fi cinema and literature to the pluriversal praxes and methodologies that challenge Western thought and science. In one assignment, students made robots whose main mission is to repair something, opening the dialogue about the role of robotics in proposing alternative social, environmental, and sustainable futures.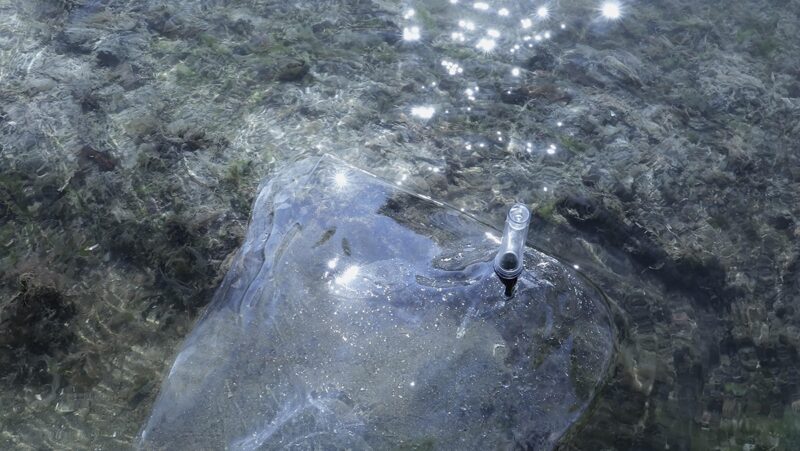 Technological Landscapes
Faculty lead: Shona Kitchen, Digital + Media
Technological Landscapes is an experimental, interdisciplinary research studio focusing on the intersection of place, landscape, and technology. It has participants who have worked with NASA's Airborne Sensor Facility, Stanford's Linear Accelerator, URI's Inner Space Center, and the Naval War College.
Their research investigated various modes of creative inquiry related to place-based practice, including fieldwork and site visits, interdisciplinary collaboration, and public art. Participants explored the psychological, social, and environmental consequences of technological advancement and failure, speculating about possible near futures where science fiction meets built reality. Projects functioned as imagined propositions, revealing and subverting the unseen technological forces in the world around us. They also uncovered our shifting role as creators, consumers, and unwitting victims of technology.
The Group and RISD's 'Sustainable Futures' joint research project continues to build upon the collaborative research platform created by Strategic Partnerships at RISD. This platform was designed solely for Hyundai in 2020.
"RISD's collaborative research partnership with Hyundai has become one of the most exciting studio options for RISD students seeking to work across disciplines on complex issues of global import. Over the three years of this partnership, RISD and HMG have developed a remarkable creative synergy, working across time zones, geographies, knowledge domains, and institutional cultures. Driving this synergy is a shared conviction that art and design have enormous power to reveal futures we would otherwise never imagine. We also share the conviction that radical change is just over the horizon, and it is our unique responsibility to envision, and then make, a better tomorrow," said RISD Provost Kent Kleinman.
The research was informed by the expertise and methodologies of trained scientists at RISD's Edna W. Lawrence Nature Lab. These scientists worked with RISD faculty and students on biodesign topics, including biomimicry, biomaterials, and biosystems applications. Hyundai and Kia designers provided necessary input and feedback on projects throughout the process. Support for research activities was also provided by Co-Works, RISD's interdisciplinary research, and by focusing the lab on emerging technologies.
"The study of nature and many of its optimized mechanisms, enables us to move forward to a sustainable future," said SangYup Lee, Executive Vice President and Head of Hyundai Global Design Center. "Through this collaboration, we were able to broaden our insights to extend beyond the typical approach and delve deeper into the wisdom that nature provides."
Karim Habib, Senior Vice President and Head of Kia Global Design Center, added, "As the responsibility of design has changed over the decades, we must consider its impact on our society not only for human life but also for the planet. This collaborative research with RISD, which deeply explores and learns from nature, the greatest innovator, has allowed us to expand our perspective on future sustainability. This encompasses humans, technology, and nature."
The 2022 research groups reflect 12 RISD degree programs (Architecture, Ceramics, Digital + Media, Film/Animation/Video, Glass, Graphic Design, Industrial Design, Interior Architecture, Photography, Printmaking, Sculpture, and Nature-Culture-Sustainability Studies) and the RISD-Brown Master of Arts in Design Engineering (MADE) program.
This summer, 13 students from this cohort will continue to work with the four faculty leads. They will spend eight weeks of intensive, continued activity on expanding Sustainable Futures research in collaboration with the design teams at Hyundai and Kia. An exhibition at RISD displaying student projects in the form of images, videos, and physical prototypes is planned for fall 2022.
Related