Filmmaker Jessie Anthony Chats About Her Award-Winning Film, Brother, I Cry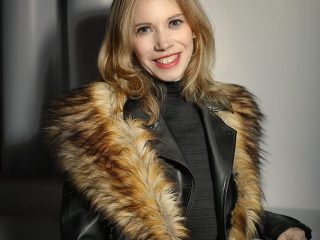 Meet Jessie Anthony, an award-winning filmmaker who talked about her passion for filmmaking and her film, Brother, I Cry.
Here is our Q&A:
Q: Congrats on recently winning the Audience Choice Award at ImagineNATIVE, and Best BC Emerging Filmmaker Award at VIFF what do these two awards mean to you?
A: Thank you so much! These two awards have me over the moon. They are both such an honour, especially at the start of my film career. These awards also symbolize; Indigenous voices being heard and acknowledged.
Q: How did you come up with the title for the film?
A: I was in school and after all the drafts it was my then producer April Johnson who helped bounce the titles off each other. We were sitting on our chairs throwing out titles and mixing the words around because Pass Through wasn't strong enough or wasn't telling enough then all of a sudden it hit us.
Q: When did your passion begin for filmmaking?
A: I've always had a passion for storytelling so it started when I was young, probably 5 singing, dancing and making stories up but then I went to school and participated in Christmas concerts and plays. In high school, I took all the drama and art classes, I was even a part of a Six Nations youth Theatre Group but it was at Vancouver Film School where I kept hearing "Make your own work" so I went out looking for a film class and I found the Indigenous Independent Digital filmmaking program IIDF and that is where my passion started to flourish. I went on to get my degree in Motion Pictures Art at Capilano University.
Q: You wrote and directed the film, tell us the process of making the film?
A: The process took time to develop and mould. I would have a lot of wonderful support and programs like the tricksters and writers program with women in film, friends, family, mentors who really helped keep me on track to get the script done. I had a great producer and a wonderful cast and crew to get through production. The post team was exceptional. I also would call my brother and ask him questions when I wanted to connect with a type of feeling or characteristic. The process was also a lot of prayer and love.
Q: How does it make you feel to have the film screened?
A: I don't know if there is even a word for that feeling.
Q: What is the message you want people to get from the film?
A: I want people to know they are not alone in this crisis and that I too love an addict and that we need to start speaking about it and supporting each other. I want my brother to know my fear of losing him.
Q: You are also an actor and director. How did these two skills help you in making the film?
A: I think having acting training helped me talk and break down methods and processes. I was able to be open with the actors and ask for specific moments. I think having those two tools help you understand the technical, spiritual, emotional, mental and physical when diving into a character and their world.
Q: Where was the film shot?
A: The film was shot on the Capilano territory (North Vancouver) and on the Sto: lo territories. (Mission)
Q: What has the feedback been like?
A: Very overwhelmingly amazing. The connections and stories I get in my emails and inboxes have been heartfelt, deep, emotional and beautiful. people are letting me know what the movie means to them, what the story has done for them.
Q: Tell us about the characters in the film?
A: The characters are pieces of me and the things I have gone through but they are also inspired by my family and my brother. The characters are real, raw, tired, hurt but have so much love and yet don't know how to receive or give it. The characters are surviving the best way how to. I love each and every one of these characters ❤️ I'm going to cry thinking about them.
Q: Tell us how did you decide on the musical score?
A: Red Jane, Red Heartbreaker is so amazing and she related to a lot of the pain and family dynamics in this film. I would like to think we had a great relationship on this project, we would find ourselves talking for hours about life and love and then get back to the project and nail the music to the feeling. Composing and sitting with a composer was something I've never done before and I'm so thankful Red was my First ❤️ Andy and I wanted to go with tones that created a thriller feel and Red made it happen.
Q: What is next for you?
A: I just wrapped an Indigenous Queer web series, I produced alongside writer, director Mary Galloway. This project is now in post and will be released on APTN's Lumi platform later next year. I have been producing with Andy Hodgson and Red Castle films and we just released a short film titled El Color Negro a piece directed by Andy in support of The Black Lives Matter Movement. I'm also waiting to hear back about some development funding, I have two features and a pilot waiting to be greenlit 🙂
Who knows – maybe someone will want to make Brother, I Cry into a T.V series ..wink wink Netflix
Related