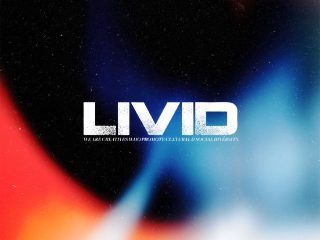 GLAMOROUS LIVING AT THAI CONG VILLA
Thai Cong Villa is a daring experiment with a large part of the 5,382 square feet used for a bedroom and a living room. With an all-black kitchen, the whole house is filled with a cinematic and artistic atmosphere. Everything depicts a life full of inspiration, passion, luxury, and splendor, right down to the smallest detail.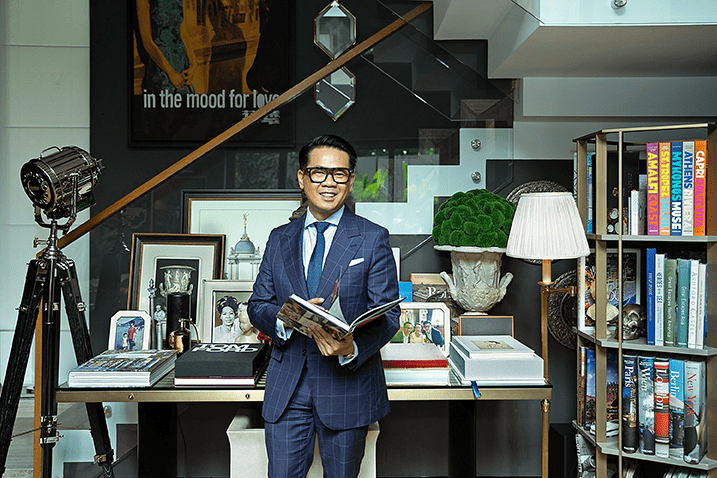 "I enjoy exploring new things, which makes it difficult for myself, as I want to use this space for many daring experiences. Therefore, the house will have angles, arrangements, layouts, color schemes, etc., that I have never previously used". – Thái Công said.
The outdoor space has been divided, with a fence with green plants, built to create a separate path leading to the back of the house for the maid. 
Before entering the main hall, visitors will walk up a lush green path with tropical parakeet flower bushes. The whole space of Thai Cong Villa is not immediately visible but instead reveals itself slowly. There is an elegantly and harmoniously designed auxiliary corridor with an eclectic interior decoration style.
In the secondary hall, there is a separate path leading to the garden and swimming pool. On the opposite side, there is a foyer in front of the living room. 
In this foyer, Thai Cong has created two spaces with two secret doors covered with Italian wallpaper with Asian-style patterns. One secret door is for a guest toilet, and the other is for a shoe and umbrella closet.
Thai Cong has limited the use of redundant lines and shapes by creating a harmonious, convenient and multi-purpose space, has all required functions, meets aesthetic requirements, and provides private living facilities for the homeowner.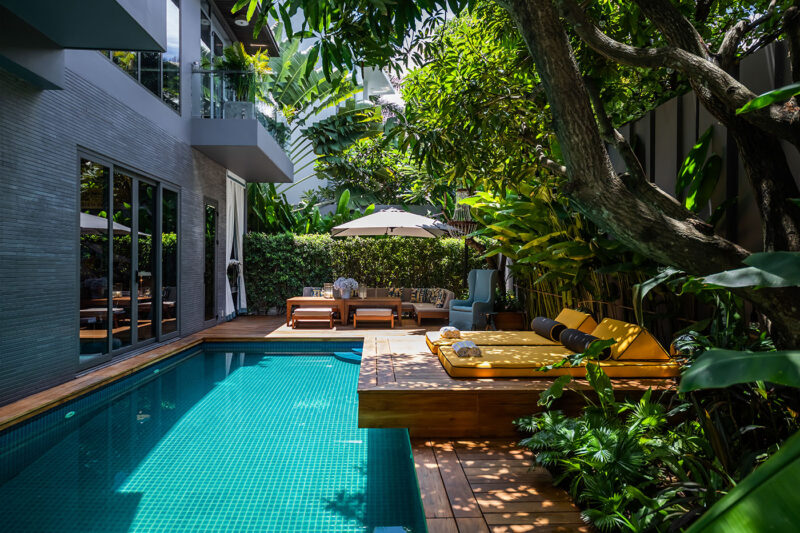 FILMAHOLIC LIVING
The luxurious and splendid interior decoration items are not used to show off. Still, they are rather cleverly arranged and used to harmonize the opposite extremes: old – new, classic – contemporary, simple – sophisticated, Western – native, multicolor – monochrome, etc. 
The separate spaces in Thai Cong Villa are harmoniously connected by another exciting detail inspired by books and movies. In the living space, books can be found everywhere: shelves, tables, floors, etc.
The homeowner's love of the cinema is clearly shown in the choice of large oil paintings that portray the movie stars from James Bond or In the mood for love – the classic Asian movie from the early 21st century. The paintings, the homeowner, revealed: "I am inspired to use movies as a theme for spatial design. When I was a child, my house was near Thanh Van theater. Every time the theater had a new movie, people drew big pictures to advertise it. Then, after 2 or 3 weeks, when a new movie came out, the theater erased the old ones, drawing new images. That detail reminds me of my childhood.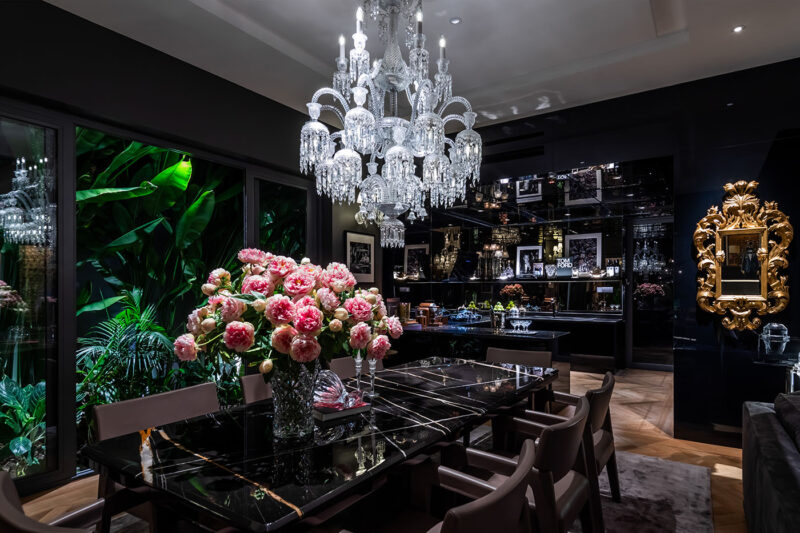 GLAMOROUS DINING
The unique and expensive Baccarat crystal chandelier that provides a luxurious look when hung above a rare oversized jet black Italian marble-topped dining table is in stark contrast to the East Asian simplicity and purity of the tropical parakeet flower bushes on the porch. This exciting combination creates harmony between the Thai Cong's classy, creative European style and the native Vietnamese elements.
The living room, dining room, and kitchen have an open and seamless design separated from the leafy garden and a clear blue swimming pool. Just one step through the glass partition, we will enter a place meant for resting, relaxing, and peacefully enjoying time with loved ones.
The idea of an all-black, mysterious and beautiful kitchen is explained: "This house is like a laboratory. What Thai Cong has never done for anyone else, he will do for himself to live with and understand more about it".
Utilizing background colors and cleverly and intentionally hiding the lighting system gives the kitchen a different and impressive look. Thanks to the glass ceiling, the kitchen seems to have an indefinite height, and it cleverly reflects the shimmer of lights, candles, collections of tea-making facilities, bowls, dishes, crystal cups, and fine ceramics at the bar place.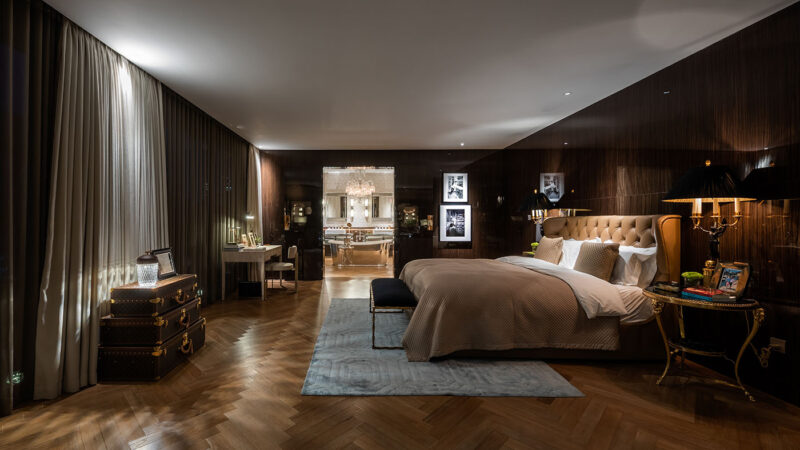 SLEEPING BEAUTY
"To understand a person's lifestyle, seeing the way they organize their living room is not enough because it is just the outer layer. If you show me the homeowner's bedroom and bathroom, I can tell you their class".
Thai Cong Villa has 5,382 square feet but only one bedroom, meaning that the designer can use the most beautiful, sophisticated things to create a natural space for himself.
The bedroom connected to the bathroom highlights a large bathtub in the middle of the room – a longtime dream of the owner.
This multifunctional space made it feel private for relaxation, inspired by the luxurious furnishes and appreciate the sophistication of the art of interior decoration in every small corner.
ABOUT THE INTERIOR DESIGNER
Thái Công is a Vietnamese-German Interior Designer. Although he moved to Germany at 10, Thái Công was raised in the traditional Vietnamese style. Growing up, studying, and working in Germany, Thái Công had the opportunity to interact with and develop a deep understanding of Western culture, style, and aesthetic views. During his 32 years in Germany, he graduated with a degree in fashion, working for many years as a creative director and fashion photographer. With an instinct for art and installation mindset, Thái Công has been honored with many noble awards in the field of art, such as the Infinity Awards voted by the ICP (New York), the Golden Lion in Cannes – France for Ideas and Graphic Design My Parents Book, and Bronze Medal for Design category for My Parents Book by ADC Council in Germany. – For more information about Thái Công and his current projects please check out his website here and follow on IG.
Related