International Recording Artist, Bif Naked Shares Favorite Fitness Routes and Restaurants in Paris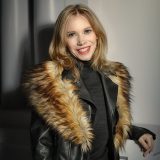 Bif Naked  Shares Favorite Places to Run and Eat
International recording artist, author, humanitarian and breast cancer survivor Bif Naked always enjoys spending her time in Paris from working out, shopping to enjoying some of her favorite dishes. In a Q&A interview, she offered some great running and workout routes in Paris along with some of her favorite restaurants or eateries. She also shared what is next in her career.
Q: What do you love about Paris?
A: There are so many things I love about Paris! It's my sanctuary! It's so walkable, and we walk everywhere from where we stay (in the 7th usually, at my manager's family home) and have discovered so many favorite places. But the truth is, the Parisians are the best part of the city! I love the people!
Q: What would you recommend for places to workout?
A:  When we stay in Paris, we tend to work out outdoors. I usually power walk every day and we will find park benches and quiet sidewalks to do some plyometrics in between. The benches along Tuileries Garden always serve us for step-ups and box jumps, in between our other exercises, and we sometimes find the same types of areas in Luxembourg Garden as well. We pick destinations for our powerwalking or runs, and from the corner of, say, Rue du Bac and Saint-Germain, to the 10th it's about 4 kilometers, and then, of course, we would walk back. Also running the steps around Sacré-Cœur is a killer workout. Yoga in Paris is like home, and of course, we find our way to Centre de Yoga Sivananda Paris or sometimes Mysore Yoga Paris and both are far enough away that it's a good walk or run to get there and back.
Q: What are some of your favorite restaurants?
A: Paris is renowned of course for its restaurants! But I love to COOK more than anything and being a vegan is simple. When we do get a chance to go to restaurants that are vegan, Le Potager du Marais is so lovely! True FRENCH cuisine but 100% vegan! Magnifique! Also, Bob's Juice Bar will always remain my favorite. I buy fresh vegetables every day to make salads with, and on the weekends the markets are world-class! Our favourite is over at Motte-Piquet on the weekends.
Q: If you are new to running what are some routes you would suggest?
A: For anyone new to Paris, or a new runner, I always recommend running along the river. The Seine has paths that are not only smooth and easy, but they are also safe from traffic and cars. Any direction you choose will lead you to a riverfront café and on the left bank, you can wind your way over to the Eiffel Tower and grab a coffee in the area. It's a must!
Q: What about workout gear?
A: For sportswear or casual athletic gear in Paris, I love to collect local! Anything football we can bring home from Paris Saint-Germain team is always a hit, and of course we love to dawdle around Champs-Élysées (which has everything!) and hop on the train to La Defense Quatre Temps a very modern mall and a fun destination for us, as we also tour the area which is so ultramodern and different from central Paris. There is so much shopping in Paris!
See Also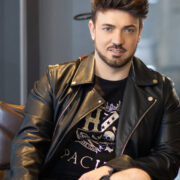 Q: Tell us about your workout regime?
A: Right now, my workout regime includes medicine balls. I love to use bodyweight exercises and incorporate yoga asanas into my regular workouts. We live on Lake Ontario, out in Toronto, and we have been BMX riding every day this past summer. It has been a lot of fun! This autumn I am embarking on a more dance-based workout technique, hockey stick-and-puck drop-ins, and of course back to yoga on the mat. I love to change it up depending on the season.
Q: What is next for you?
A: My memoir has been so rewarding for me because we still perform an acoustic show surrounding the reading of the memoir. I just finished my first book of poetry, and am working on a book about cancer and staying positive. We have made a new record and I am really looking forward to releasing music and performing on tour.
Check out her website Bif Naked