Caylee Augé Founder of Salon Profit Project Helps Owners to be Financially Fit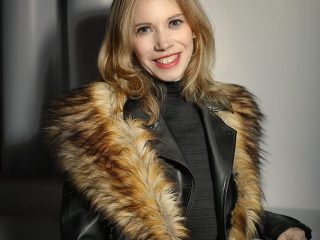 Caylee Augé Shares Her Passion for Financial Fitness and Maintaining a Healthy Lifestyle
Meet Caylee Augé, founder of the Salon Project Project, online education and membership platform and for salon owners to grow their business. In our Q&A interview, Augé shares her passion for how to achieve financial fitness as well as maintaining a healthy lifestyle.
Tell us your role and how are you helping others to not only follow their passion for owning a hair salon but maintaining a healthy financial plan?
I love helping entrepreneurs follow their passion, and to profit while doing so. Helping salon owners get ahead of their financials is life-changing and I love being a part of that. That means achieving a healthy foundation where they know the money part is in order, as opposed to being a stressed out, burnt out an overwhelmed owner.
Tell us how do you maintain both?
For me, it's all about maintaining good habits, those small things that you do for both your body and finances matter. After having two kids I feel like I am just getting back some of my healthy habits that were not as high of a priority over the last few years.
Financial fitness:
I keep a net worth tracker to always know what direction I am moving in.
My husband makes fun of me because whenever he looks at my computer I am looking at the bank accounts. I love checking progress towards my goals and making sure we are on track with our plans.
I test out new expenses in my financial planning spreadsheet before I commit to it. For example, we wanted to put our kids in private school. I added the expense to our plan plus the second car we would need. I saw that it would make us very tight so instead, we got a bigger car and found a carpool. Saved us from getting behind while moving forward.
Fitness:
I have a TRX Trainer at home which makes it easier to squeeze in a little workout.
Eating really clean food has the biggest impact on your health. Don't get me wrong, I do have a weakness for chocolate.
A weekly work out with a friend makes me happy. It could be a walk, run, swim, paddleboard, or anything really. Feeds the soul and the body!
How do the two compare a healthy financial plan and a healthy body and mind?
To get financially healthy you go through the same steps you would need to take to get a healthy body or mind. So I would say they're interconnected as they're both a reflection of how we feel about ourselves. It all starts with your belief system, your dream and your willingness to try something different. When we believe we are worthy and are disciplined and dedicated enough to the dream to follow through the hard parts then we achieve the body and financial health.
What does a healthy financial fitness plan look like?
Your money is working for you and you've planned for the unexpected. It looks like being able to do what you want when you want because when your financial bases are covered you can live your dreams.
What do you like most about what you do?
I love the lasting impact that I have on my client's lives. I used to teach hair cutting around the world. It was really fun and I passed on those techniques and motivated my students, but it's nothing like what I get to do now. I get to pass on skills that actually change people's lives. And for me, that's what it's all about.
How do people reach you and what has the feedback been like?
They can check out passionprofitprojects.com.
Related