Miss November: Dr. Ngoc Cindy Pham, the Oriental Pearl

Photographer @jrfstudio // MUA @_makeupwithnikki_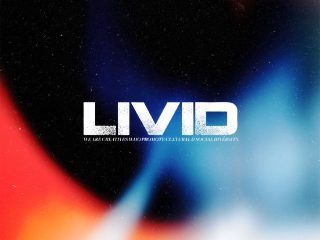 DR. NGOC CINDY PHAM, THE ORIENTAL PEARL
I have always been fascinated by the mysterious, traditional, elegant, diverse, and resilient Asian culture. So when I was accepted to interview Dr. Ngoc Cindy Pham, I think the timing was perfect for featuring her in the upcoming print issue of Dec 2021. This opportunity comes when Dr. Pham's birthday is coincidentally in November.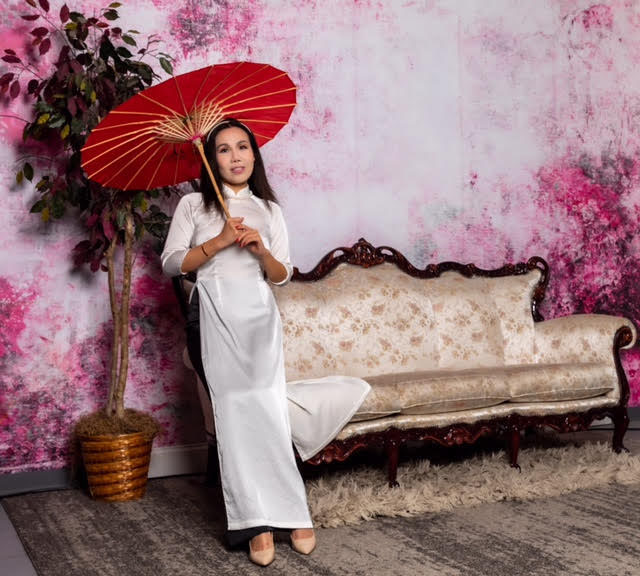 When I was walking inside a well-known studio in Downtown Brooklyn, I saw Dr. Pham in a white pearl "Ao Dai" (traditional Vietnamese outfit) matched with a pearl necklace, holding a fresh bouquet of white lilies. She greeted me with a pleasant smile as always and stood up to hug me before getting back to the ongoing photoshoot with photographer Joseph Fraia.
As we sat down for the interview, Dr. Pham enthusiastically told me, "This project showcasing her unique and exciting journey from Vietnam to NYC leads to an art exhibition that will take place in December this year in both New York City and Houston."
During the interview, I asked, "Dr. Pham, do you have any fascinating current and future projects you want to discuss?" She said, "I would like to share with you my fast-growing marketing strategies consulting agency (Cindy Pham -Brooklyn, LLC.). Our offices are located in both Houston and Brooklyn. I offer consulting services tailored to both the private and public sectors.
We provide business advice for international expansion and new markets. The recent project involves helping local homemade product brands such as Beauty Amore Skincare get into prestigious distributors like Wholefood market and Sak Fifth Avenue Department Store." Dr. Pham shared with me the traditional Asian culture regarding business, "Trust and 'guanxi' (relationships in business) are significantly important in Asian business. When there is no trust, we can't do business with you. We also reciprocate the favors."
I appreciated and was impressed by Dr. Pham's passion and enthusiasm about her business, a career in academia, and charity works. She has been an active member of the Animal Rescued Team in Houston and New York. She showed me the pictures of a new kitten that she rescued and adopted in the most recent trip to Houston in early October. Her home in Houston is a place for three adopted cats and fostered animals.
At the height of the pandemic, Dr. Pham told me that she stayed back in Brooklyn and volunteered in the Flatbush United Mutual Aid, helping run errands for the elderly and those in need. She also provided her cell phone number as the hotline for students who needed supports during the pandemic time.
Her acts of kindness were recognized and honored by the Museum of Chinese in America, the Brooklyn Public Library, and several other presses. She talked about her charity work in a soft and gentle voice–
"My parents were distraught and frustrated with my decision to stay back in NYC last Spring. But I truly believed in giving back in life, especially to the city that has treated me so well in the last three years. Of course, I learned to protect myself by wearing the N95 masks during an errand run."
I asked Dr. Pham, "What aspire you to be a professor?" Dr. Pham was humble and soft-spoken with a gentle smile, "I am not used to talking about myself." During the short period of my trip to the art studio, Dr. Pham's cell phone kept ringing with questions from students. "Some of the students are not in my classes but have known me from my current and former students.
They heard about how I can use my resources to help them with internships, connect them to the right person, or advise them for life and career. And I have said no to help the students. It is good to be able to help others in general." She shared the good news that her younger brother, who is currently teaching in Houston, has been accepted to the Doctoral program in Education.
"My Mom is a teacher. Now both my brother and I are in academia. We love this career because it runs in our family's blood. We love this career because we can help others and be role models."
For her upcoming birthday, I asked her what her wish was. She said, "I will use all the money my family gives her for the birthday with some of my savings to sponsor a few online magazines to have a print copy. She continued, "I have seen so many potential magazines and newspapers in NYC.
I am impressed by talented artists. However, they need some funding and a place to publish. Having a press of my own has always been my goal. So I ask myself, 'why don't I collaborate with them and help with some funding and marketing strategies?' A win-win situation. Also, this is a meaningful birthday gift I want to give to myself."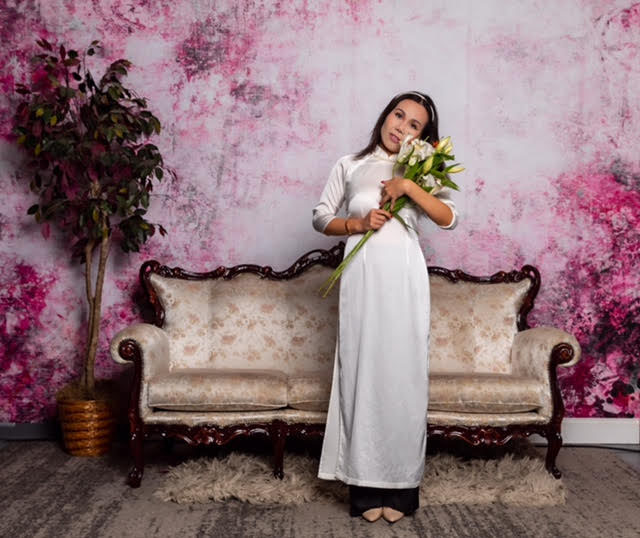 On the way home after the interview, the image kept running in my mind that Dr. Pham is in the pearl-shade dress with lingering scent from the fresh white lily bouquet holding in her hands. At the same time, soft-spoken about her achievement, the gentle petite Vietnamese lady with big ambition and a kind heart was outspoken to promote her students supporting her photoshoot.
Dr. Pham reminds me of the values of Asian ladies who always put others above themselves (warm-hearted). They are humble and kind, elegant and traditional, and resilient and hard working. She reminds me of the famous Broadway show "Miss Saigon" or the nickname of Saigon (now Ho Chi Minh City) "The Oriental Pearl." This article is dedicated to Dr. Ngoc Cindy Pham's "The Oriental Pearl."
Related