Multi-Talented Actor Teneisha Collins Shares Healthy Living Tips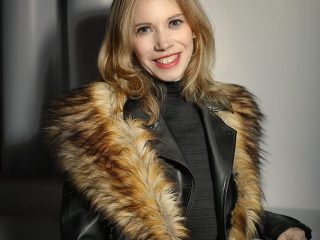 Teneisha Collins Shares Healthy Living Tips.
Multi-Talented actor, host, and writer Teneisha Collins recently played the role of Ms. Burns, a private school teacher in the film Fatherhood, and accomplished actor, comedian Kevin Hart. The Montreal resident shares in a Q&A her healthy living tips, and stay tuned for our Zoom interview about the film Fatherhood, which was shot in Montreal.
How do you maintain a healthy lifestyle?
I've always been active since I was a child. Whether it was gymnastics as a child, playing on my high school's volleyball and basketball teams, cheerleading competitively in CEGEP, dancing and cheerleading professionally through university and beyond, or stunt training, I've always kept moving. A few injuries slowed me down temporarily, but I've realized that my body loves to move, and the more I move, the more it wants to move. Now, I take regular spinning classes, hike, go for long walks (solo or with a friend,) do home workouts, and dance in my living room. I've discovered a few allergies and intolerances as an adult, so I'm increasingly mindful about what I eat and the ingredients in what I eat. Finally, I believe that a healthy lifestyle includes the mind, so I also make sure to incorporate activities and habits that are good for my mind and soul: spending time with friends and family (even virtually,) reading, doing arts and crafts, meditate, journal, manage my stress levels, seek out joy, make time for rest, and more. 
Do you have a favorite outdoor activity?
My go-to outdoor activities, especially during this pandemic, are walking and light hiking. A friend and I have scheduled weekly walks (it wasn't easy in the cold Montreal winter days, but we managed), and every week we pick a different neighborhood to walk and explore. I also enjoy light hikes – I'm fortunate to be 10 minutes away from Mount Royal, a historic mountain, an ancient dormant volcano, and a nature park situated in Montreal's center. It's so beautiful, and because it's so vast, you can choose the difficulty of your walk or hike, and I feel like there are endless paths to take. Of course, when I'm in Los Angeles, hiking Runyon Canyon and Griffith Park are a must! 
What do you enjoy most, and do you practice meditation?
What I enjoy most in terms of fitness are activities that don't feel like I'm just working out. That's the easiest way for me to keep active, with a physical activity I enjoy doesn't feel like a chore. If I can have fun and it's good for my body, I'm set! Dancing is an excellent example of that – I can have fun and listen to great music while also working out. It's like tricking my body since the goal isn't to work out but to enjoy myself, and the physical activity is a bonus. The same goes for sports, walks, and hikes. Don't get me wrong, I also do workouts that I find "boring," but those aren't the ones that excite me the most. I do practice visualization and meditation in my way. My mindset is a constant work in progress and one of the things about me I'm most proud of. I generally have a positive attitude and try to see the positives and lessons in every situation (without toxic positivity,) which is a massive contributor to my positive mindset and drives me. Something as simple as setting my intentions for the day can make the difference between good and bad days.
Do you have a favorite dish?
My favorite dish is my family's traditional holiday meal: my mom's baked macaroni, mashed potatoes, turkey, roast beef, sweet potatoes – all the unhealthy but heart-warming foods. My mom and my grandmother are the best cooks – I'm very spoiled with their cooking – and they've managed to find different ways to make my favorite foods while taking into account all of my allergies and intolerances. On a day-to-day basis, nothing beats tacos or a delicious big salad!
Anything else you like to add?
I truly believe in living intentionally – on purpose, not by default. Yes, there are outside factors that we cannot control, and we sometimes get handed people, situations, and circumstances that we didn't ask for. But instead of letting those things define me or stand in my way – whether related to fitness, wellness, career, relationships, etc. – I try to make lemonade out of lemons. There are so many things I'd love to learn, new challenges I'd like to undertake, and something that I'd like to accomplish, but if I get so caught up in what's standing in my way instead of finding my way around it, over it, through it, I'll always feel stuck behind "it." So instead, I'd rather go after the things I want because even if I "fail," if I learned a lesson, it's not a failure; it's just an experiment, another step to springboard me to where I'm going. 
Click more information about Teneisha Collins and the film Fatherhood.
Related