Chance the Rapper & Naila Opiangah Concept behind Child of God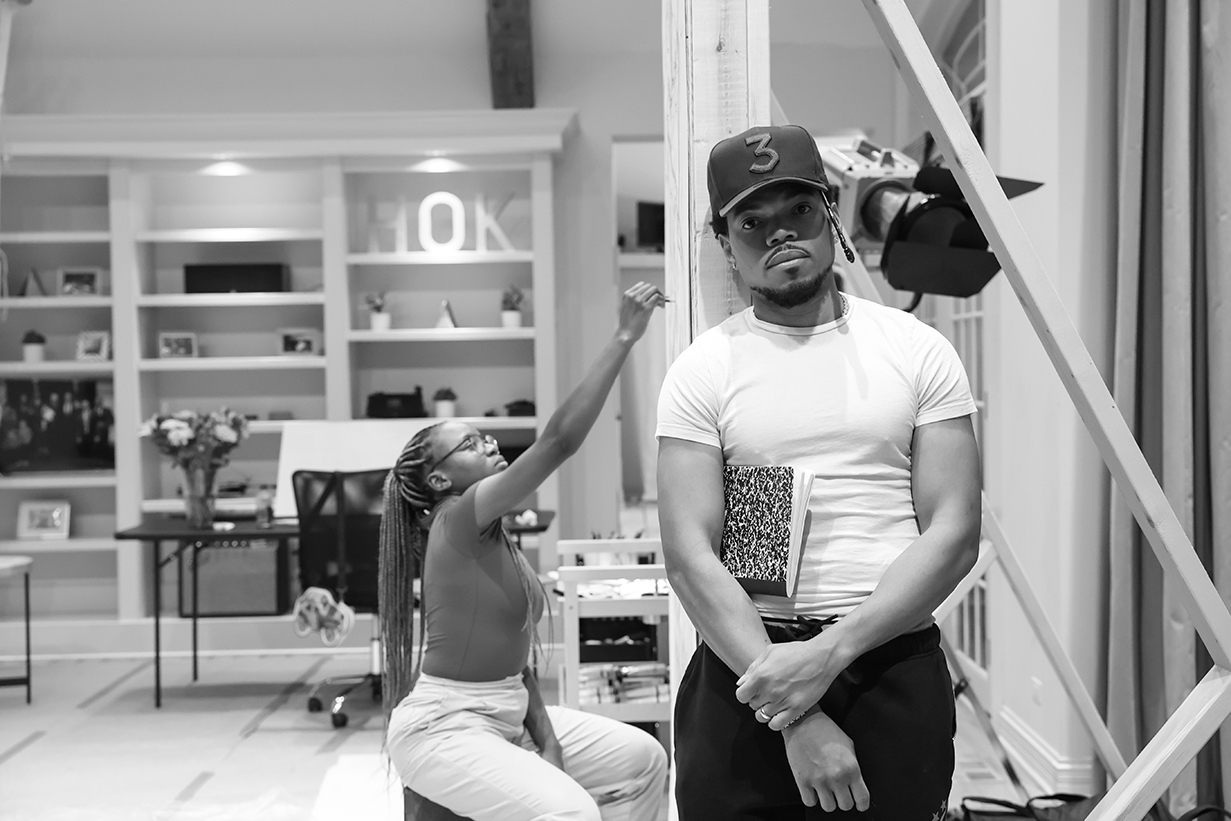 Photo Credit Keeley Parenteau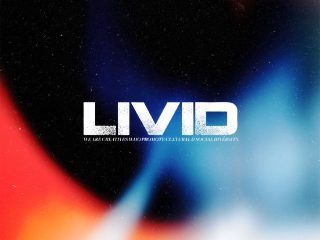 Re-Imagine
the

Concept of Single-Art on "Child of God"
Something happens when you land in Africa.
It's an incredible feeling that you won't soon forget — the feeling of home, peace, and community. It's a feeling equally steeped in the familiar and the new, of seeing scores of beautiful Black people and not seeming out of place. You realize there's creativity beneath the soil, not the despair outlined in white-leaning history books. The air hits differently. The sun shines brighter—the stress of life as a Black American dissolves. In December, Chance The Rapper learned this when he trekked to Ghana and connected with the local arts scene. 
He met Naila Opiangah, a promising young painter from Gabon with roots in Chicago and New York City. He purchased one of her pieces; they started talking about Black art as commerce. She challenged him to become a collector of African art. This was not just to have the work in his home but as a way to trumpet creators who fly under the radar.
"From his perspective as an independent artist, he had this idea of collectors as people who consume the art but also consume artists," Naila says. "He looked at it as very capitalistic, egotistical stuff that people would do that is not for the benefit of artists." However, she assumed the best in Chance: As a Black American with a large platform, he could open doors for creators who feel rejected from the art world. "Your taking space in the art world is a way of opening the door, widening this ecosystem for more people that look like us," she recalls saying.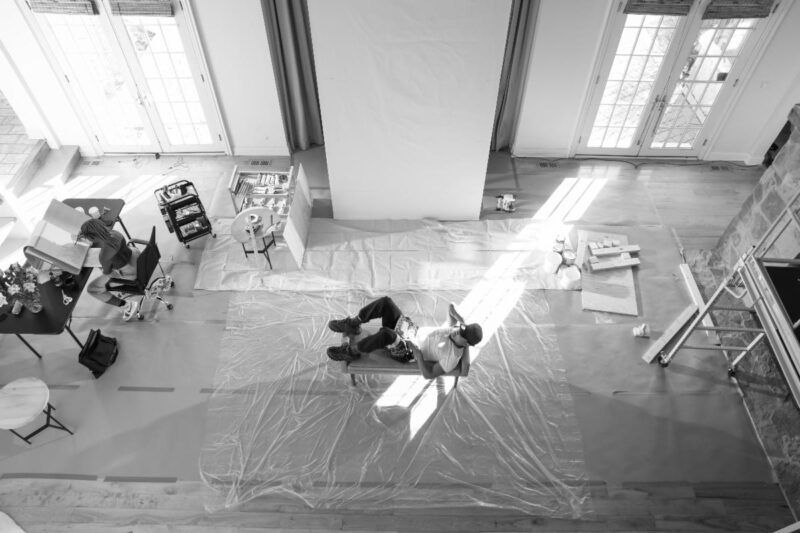 Chance told her about an idea he had to pair music and art. He wanted to reimagine the concept of album art as a fixed static image into one working in concert with the music. The picture would be influenced by the song's subject matter and vice versa. Soon after, Chance sent her the beginnings of a track he'd been working on. Naila sat with the lyrically adept tune; she envisioned intertwined bodies in motion with their hands reaching for heaven on a flight to Chicago. The song "Child of God" was born. "I was in the sky next to God," Naila reflects.
"I started sketching part of it in my sketchbook, and that's when I knew that it would be bodies juxtaposed." She wanted to put a modern spin on European Renaissance art by replacing white figures with Black ones. Her art already challenges viewers by forcing them to look past the faceless Black voluptuous women she paints. This shows that Black women are just as heavenly as the fair-skinned images displayed throughout history. "These paintings are like stories, human stories," Naila continues, "you need to study the curvature, the tilting of the head, the movement of the limbs, how the bodies touch each other, the interaction." Naila's painting will be at the MCA Chicago today. 
The song itself is about everyone being children of God. Over scant electronic drums and soft piano chords, Chance opens with double entendres that reference everything from basketball and the prophet Moses to Van Gogh, OnlyFans, and Fandango. Fans won't be surprised by the connectivity; Chance has made a career of stringing disparate topics into cohesive streams of thought.
 "The song is so much about the process," Chance says. "It's a meta song. The first few bars open up with me trying to hype myself up and talk about how skilled I am at wordplay while doing a bunch of wordplays. Then the first verse finishes with me talking about this blind faith walk that gets me to where I'm trying to be — despite the odds."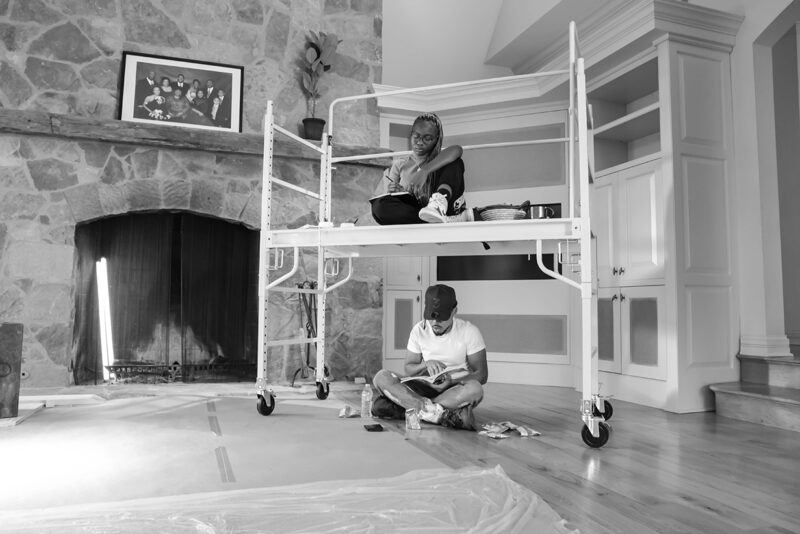 Meeting in Ghana led to this collaboration, which is a testament to Africa and Black ingenuity. They channeled that thing — the unspeakable allure of The Continent — into art that resonates the world over. But, of course, what's obtained is up to you, as long as it stirs emotion. "I want people to see it and be inspired, and I want people to see it and see themselves," Chance says.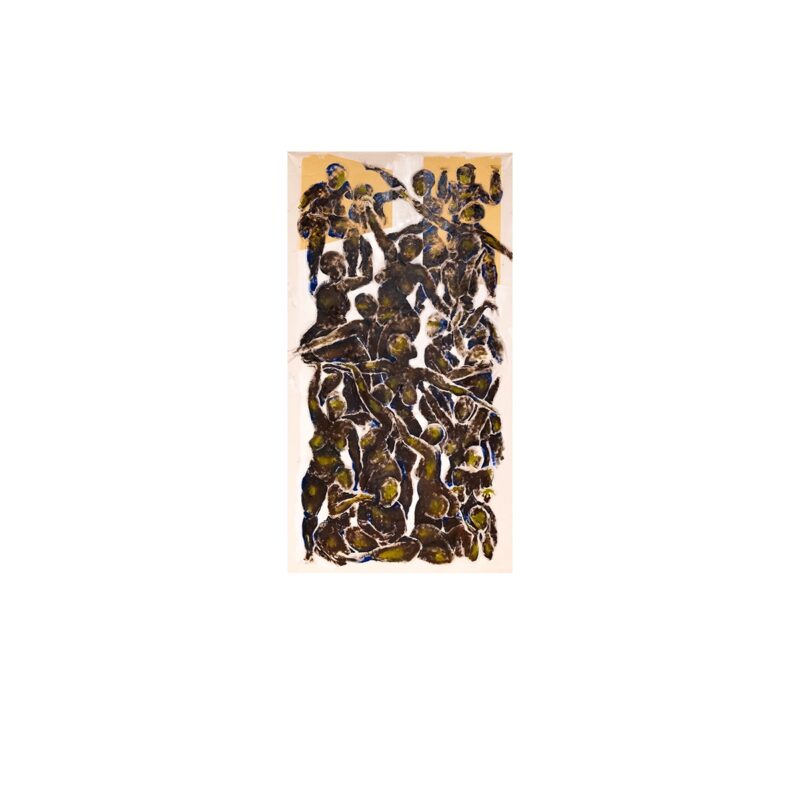 "I hope there are two things that happen," Naila adds. "I want them to feel the work for what it is: the texture, the colors, the density, the emotions. I also want them to see the process and the possibilities." 
   You can Read More about Chance The Rapper's  new release  "Child of God"   HERE
Related